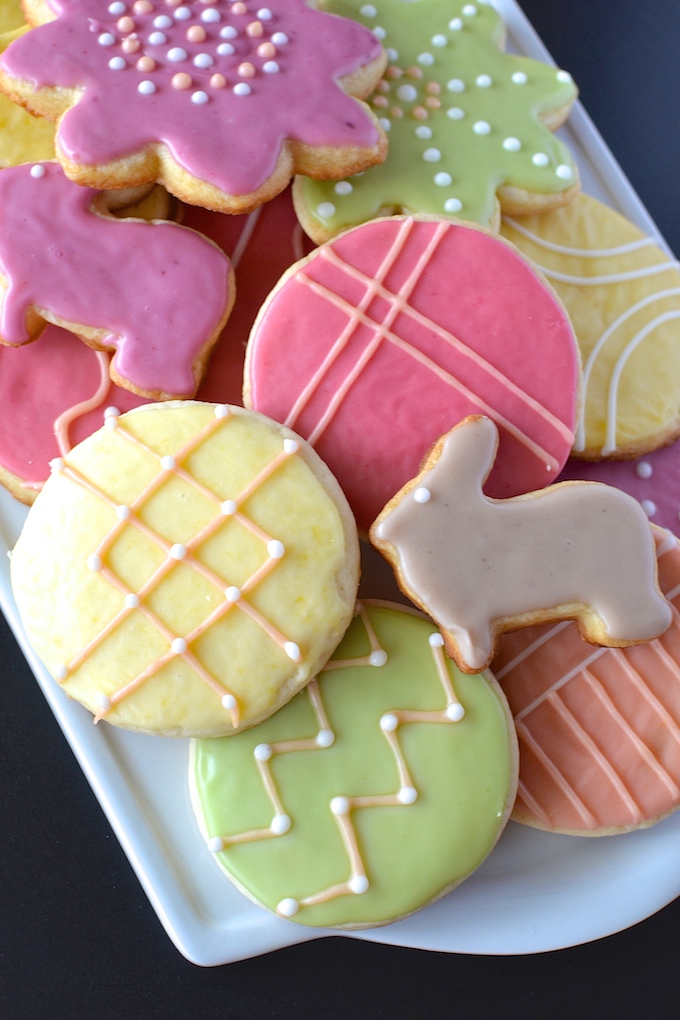 Sugar cookies! Soft, sweet, melt-in-your-mouth sugar cookies.
There are those few recipes for which I am bound and determined to find "the best recipe." Classics like chicken noodle soup, homemade spaghetti sauce, banana bread and yes…sugar cookies. One year, I even remember telling my sister that one of my New Year's resolutions was to develop a perfect sugar cookie recipe.  Crazy, I know.
It's a tough hill to climb, though…sugar cookies have to stand up to being rolled, cut and frosted and still be melt-in-your-mouth light.  And they have to taste great in their own right. And in my book, they have to be soft… no crunchy sugar cookies here.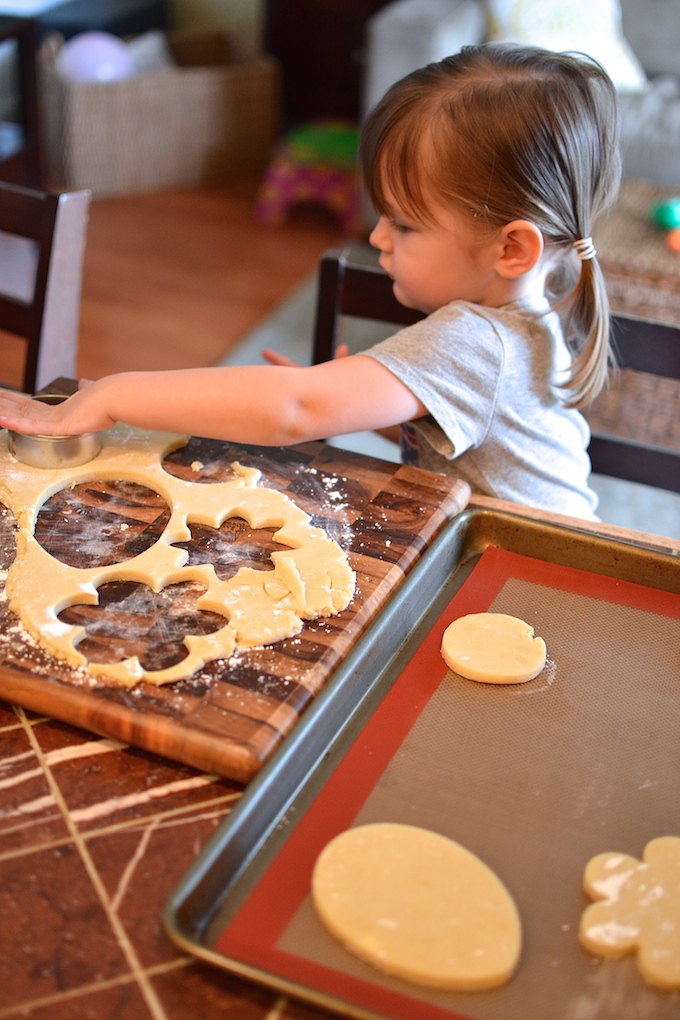 My first few attempts at making the BEST sugar cookies started with a recipe from one of my favorite blogs, Mel's Kitchen Cafe.  Although her sugar cookies are AMAZING, I had one big issue…the eggs! How could I bake and decorate these cookies with Em and then tell her she couldn't eat them? I had to find a way to make my sugar cookies taste as good as Mel's, with no eggs…no easy feat. But these cookies, my friends, may just be IT.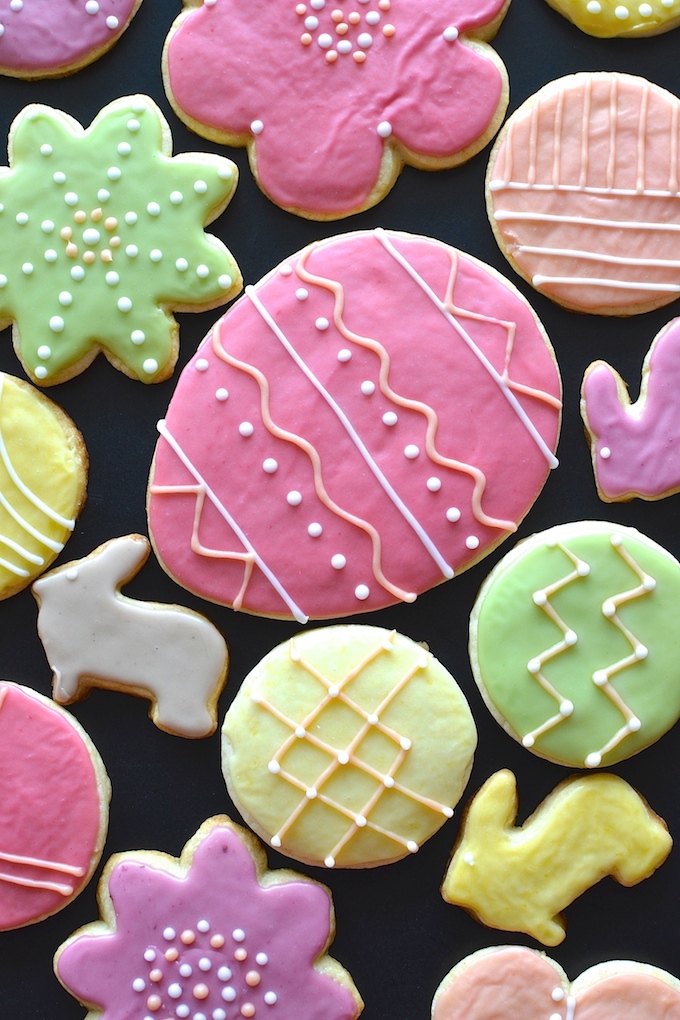 A few tips I took from Mel's recipe that make these cookies seriously the BEST…
The short baking time at a high baking temperature
Rolling the chilled dough using powdered sugar instead of flour (genius!)
Cutting the cookies on the thick-side
The amazing vanilla, almond and lemon flavors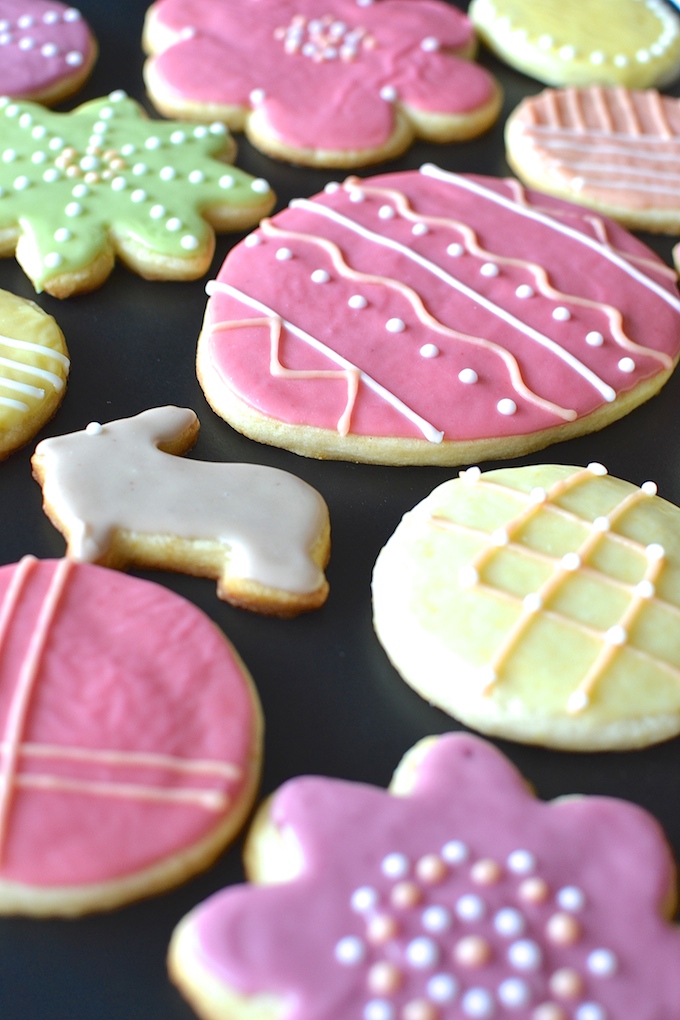 These Egg-Free Sugar Cookies fit ALL of my criteria for amazing sugar cookies… soft, light, sweet and egg-free!
I think I can safely check this one off my to-do list.
Little Hands Can…
Measure and add wet and dry ingredients to the bowl
Operate the stand mixer, or help use the hand mixer to mix the ingredients (Em is just starting to take interest in using the mixer, although we had a little "flour shower" while making these cookies!  She used to be afraid of the noise that the stand mixer makes.  Progress!)
Scoop out the cookie dough and wrap it in plastic
Roll out the cookie dough and use cookie cutters to cut out shapes
Help frost and decorate the cookies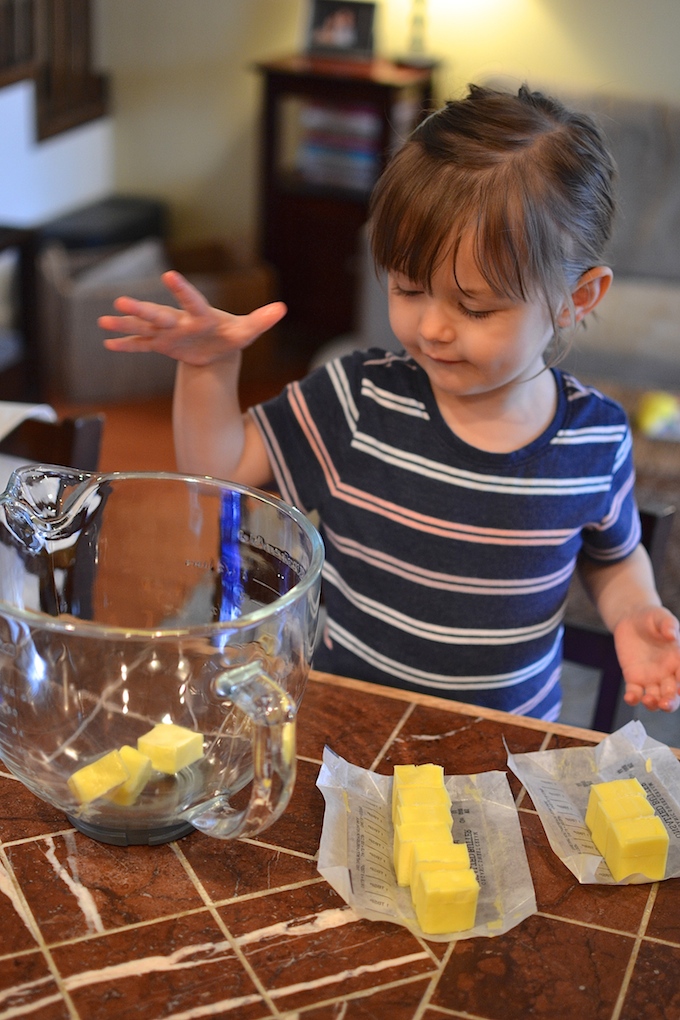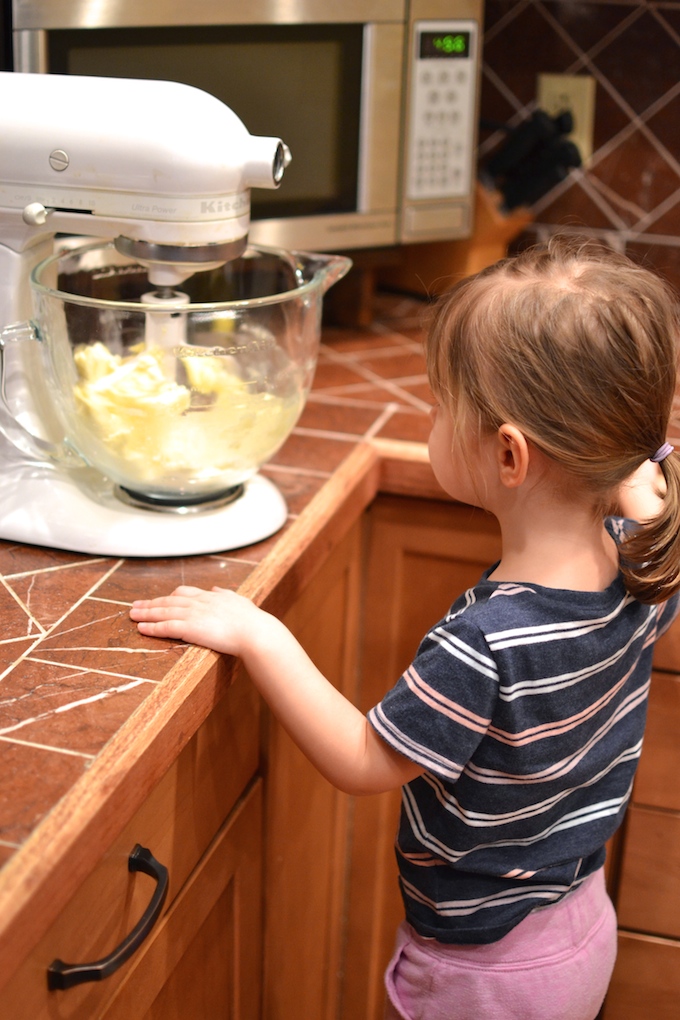 The Best Egg-Free Sugar Cookies
Author:
Sally at Sweet Peas and ABCs
Serves:
about 2 dozen medium sized cookies
Ingredients
2 sticks unsalted butter, softened to cool room temperature
¾ cup granulated sugar
¼ cup powdered sugar
1 teaspoon pure vanilla extract
½ teaspoon almond extract
1 tablespoon lemon zest (from about 1 lemon)
⅓ cup + 1 tablespoon milk
3 cups all-purpose flour
¾ teaspoon salt
4 teaspoons baking powder
Instructions
In the bowl of a stand mixer, or in a large mixing bowl using a hand mixer, beat the butter and sugars together for 3-4 minutes until light and fluffy. While the mixer is running, slowly add in the vanilla extract, almond extract, lemon zest and milk and beat until incorporated.
Add two cups of flour, salt and baking powder to the dough and mix slowly to combine. Add the last cup of flour and mix gently until the flour is just incorporated. Be careful not to over mix. The dough will be soft.
Scoop the cookie dough onto a piece of plastic wrap and bring it together with your hands. Wrap the dough in plastic and refrigerate for at least 30 minutes, so the dough is easier to handle.
Preheat the oven to 400 degrees. Prepare a baking sheet lined with a piece of parchment paper or a silpat liner.
Dust your countertop or a large cutting board with powdered sugar. Using a rolling pin, roll the dough to an even thickness, about ⅓ to ¼ inch thick. Use cookie cutters to cut the dough into shapes. Use a spatula to place the cookies onto your prepared baking sheet.
Bake the cookies for about 7 to 7½ minutes at 400 degrees. The cookies should be pale or ever-so-slightly golden on the bottoms, so they stay soft. Smaller cookies may take an even shorter amount of time, 5-6 minutes.
Cool the cookies completely on a wire rack before icing or decorating.
Notes
According to Mel's Kitchen Cafe recipe notes, you can keep the dough wrapped in plastic in the refrigerator for up to 1 week until you're ready to roll it out and cut out shapes. You could also keep the wrapped dough in a freezer bag and freeze the dough for up to 1 month. Take it out the night before you want to use it to thaw in the fridge. Then let it sit on the counter for 20-30 minutes before rolling and cutting.
Recipe inspired by both
Mel's Kitchen Cafe
and
The Novice Housewife
On the Side
We're icing The BEST Egg-Free Sugar Cookies with the most amazing, food-dye-free Naturally Colored Icing!  And with these naturally-colored icing colors, we're learning all about color mixing, with a great "mixed-up" book recommendation.  Check out our coloring mixing activity here!
Disclaimer: As with all of our recipes, my suggestions for how kids can help with a particular recipe are based on what has worked in our kitchen.  Your child may be able to help more or less based on their age and/or ability. As always, make sure you are properly supervising kids in the kitchen.