The different colors and variety of vegetables in our Summertime Mixed Grill with Lemony Orzo recipe call for some play with patterns!  We're using our sliced vegetables to learn about and build simple and complex patterns…produce patterns!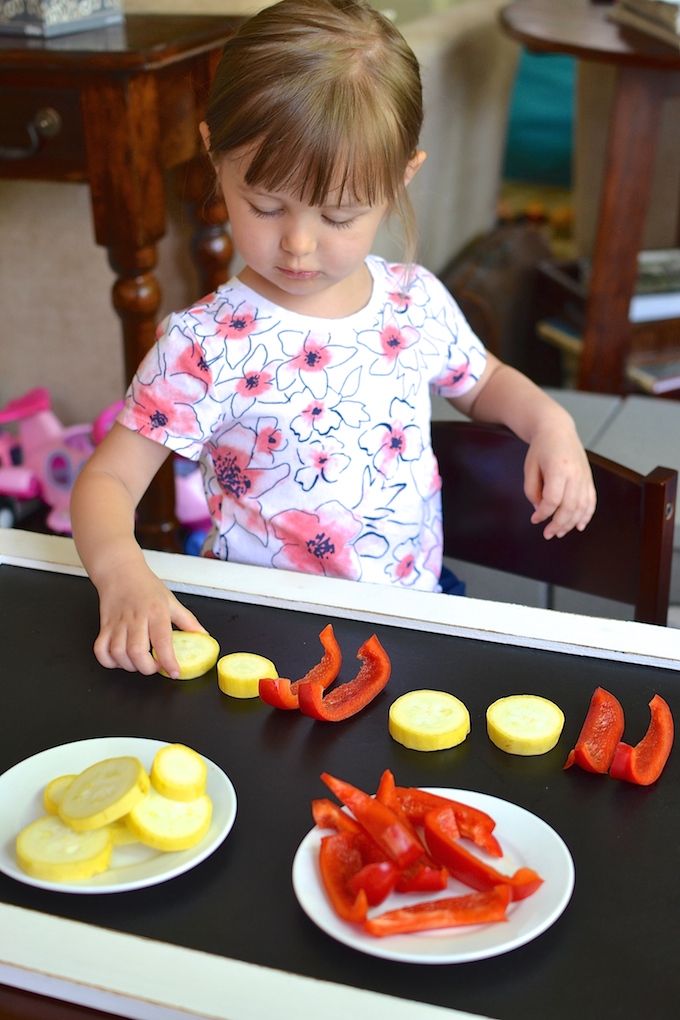 For some reason, Em has latched onto the idea of patterns lately.  Spoons, brushes, toys, rocks…no matter what's in her hands, she says, "Look! I made a pattern!" And she's right…patterns are everywhere. In art, in nature, and in music, in spelling, in reading and in math…even in our behavior.
A pattern is basically "a repeated design." Pretty simple, right? When kids understand patterns, they can understand how things work together and what makes things the same or different. Look around!  Can you spot patterns in your everyday world?  Take a walk, look out the window, check out your toys and books…where do you see patterns?  We can even find patterns in the kitchen!
After slicing your peppers, squash, zucchini and onions for your Summertime Mixed Grill, set some veggies aside for this pattern activity. To start, ask your child, "What is a pattern?" If they aren't sure, tell them AND show them.  See if they can create their own patterns.
You could create patterns by color (red pepper, red pepper, yellow pepper, yellow pepper) or by vegetable type (pepper, squash, squash).  Are there other patterns you can create?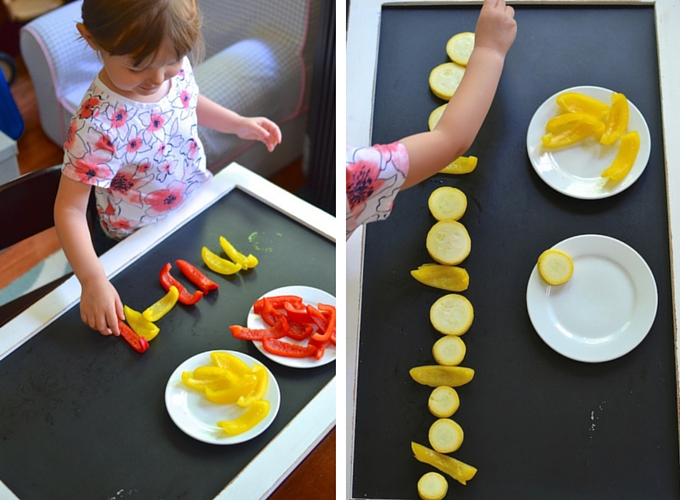 The Measured Mom suggests the following progression when teaching patterns (she has a whole bunch of other great pattern activity ideas too!):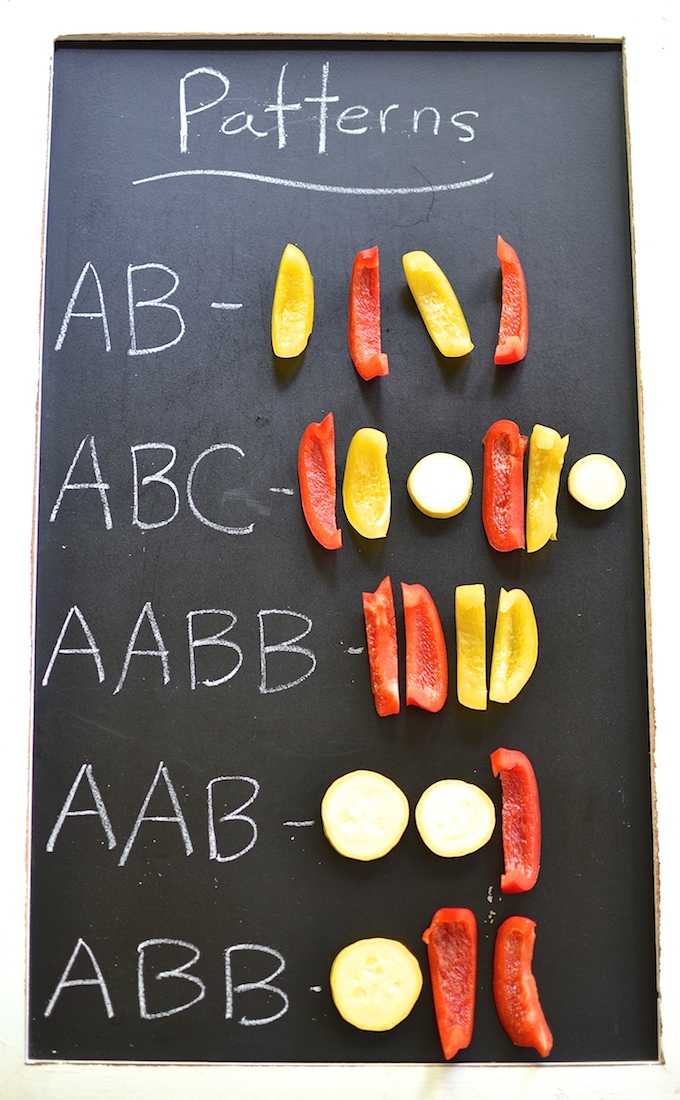 For younger kids, it may help if you start building a pattern for them. Say each item aloud and then ask your child to say it along with you. Encourage them to keep the pattern going. This strategy helped Em know what would come next in her pattern. If they make a mistake, it's okay! While we were doing this activity, sometimes Em would add to the pattern, but then would reverse the pattern towards the end (i.e., ABC ABC ABC CBA). Wherever your child takes this activity is what's right for them at that time.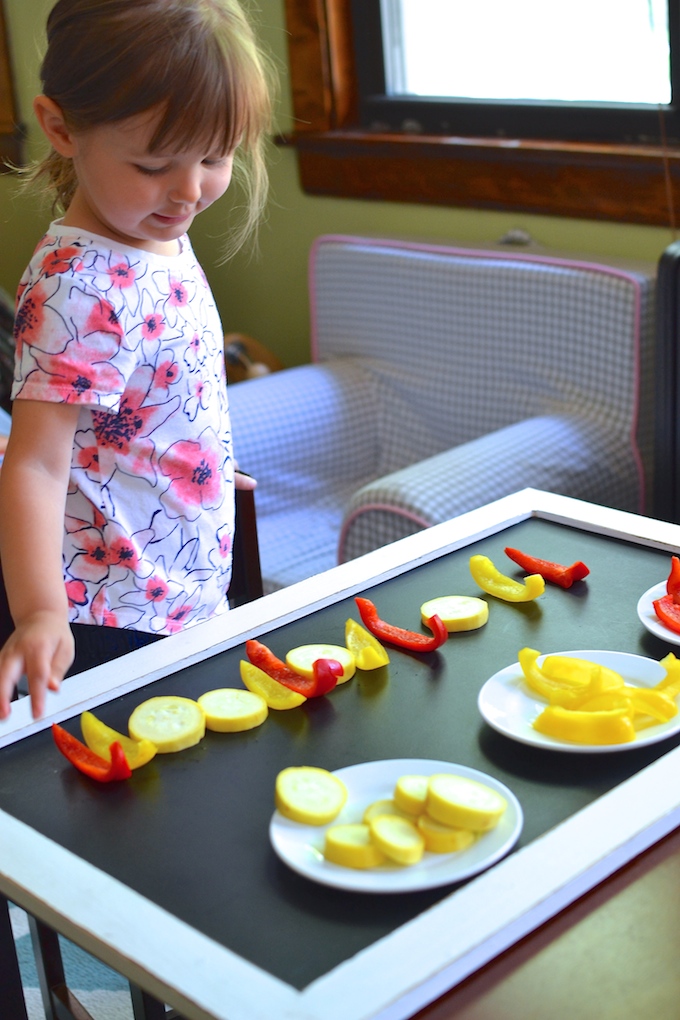 For older kids, you could challenge them to:
Find the difference between two patterns that you build
Challenge them to stump YOU by building a pattern that you have to complete
Figure out what part of a pattern is hidden
Complete an unfinished pattern
Introduce the idea of naming a pattern with letters (one letter for each new item in the pattern) and have them label their pattern.

This type of pattern work may spark more patterning ideas in your kids!  When we finished with our vegetables, Em wanted to draw more patterns with shapes. She told me what shapes to draw and I started the pattern before she finished it.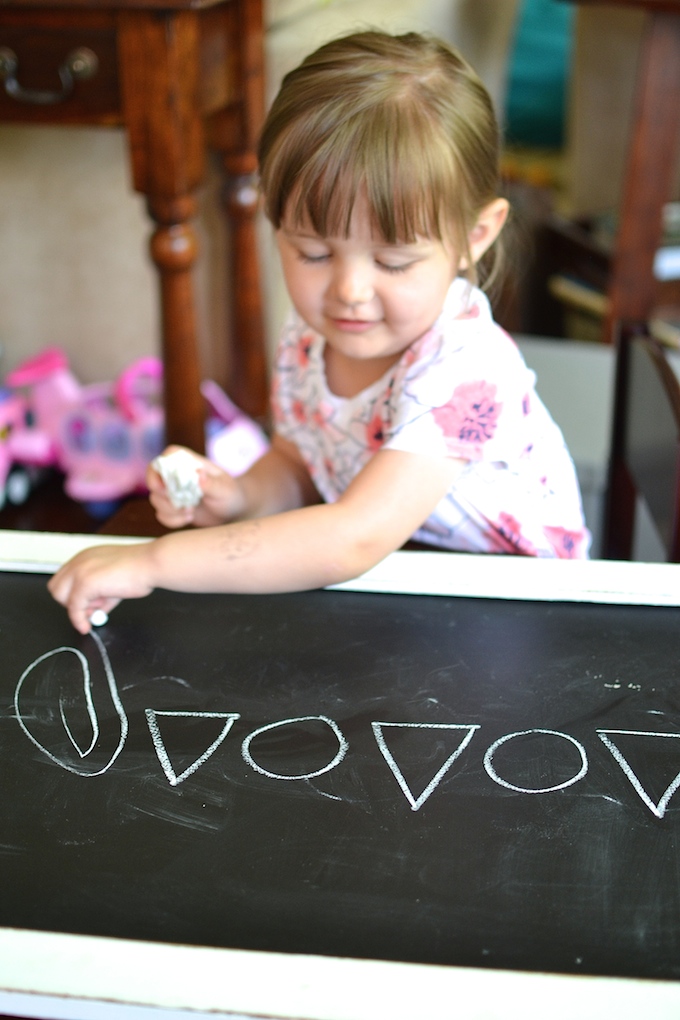 Where else can you find patterns?
Disclaimer: As with all of our activities, my suggestions for how kids can get involved are based on what has worked in our home.  Your child may be able to do more or less based on their age and/or ability.  As always, make sure you are properly supervising and engaging with kids that are participating in learning activities.