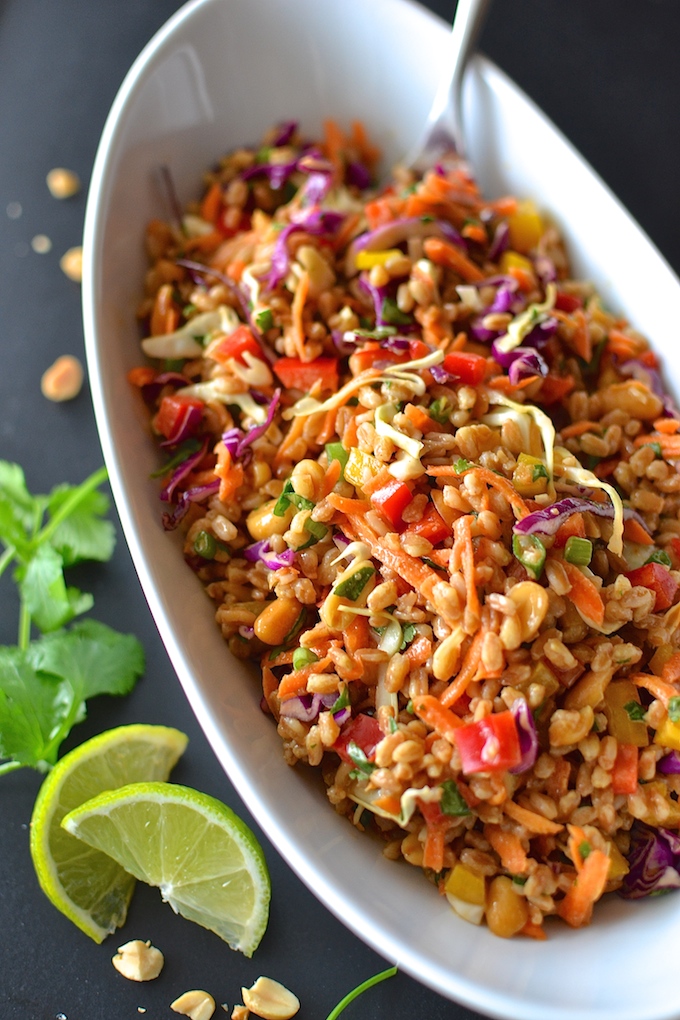 I know it's still February…but March is just around the corner, which means spring isn't far behind.  I'm already feeling the itch to switch from the warm, comforting meals of winter, to the light and fresh recipes that spring brings.  This gorgeous Rainbow Thai Farro Salad is first in line.
I mean, just look at those colors!!  We've hit nearly every color of the rainbow here…red pepper, orange carrots, yellow pepper, green cabbage and cilantro, purple cabbage, white onions.  Add a side of blueberries for lunch and that pot o' gold is yours…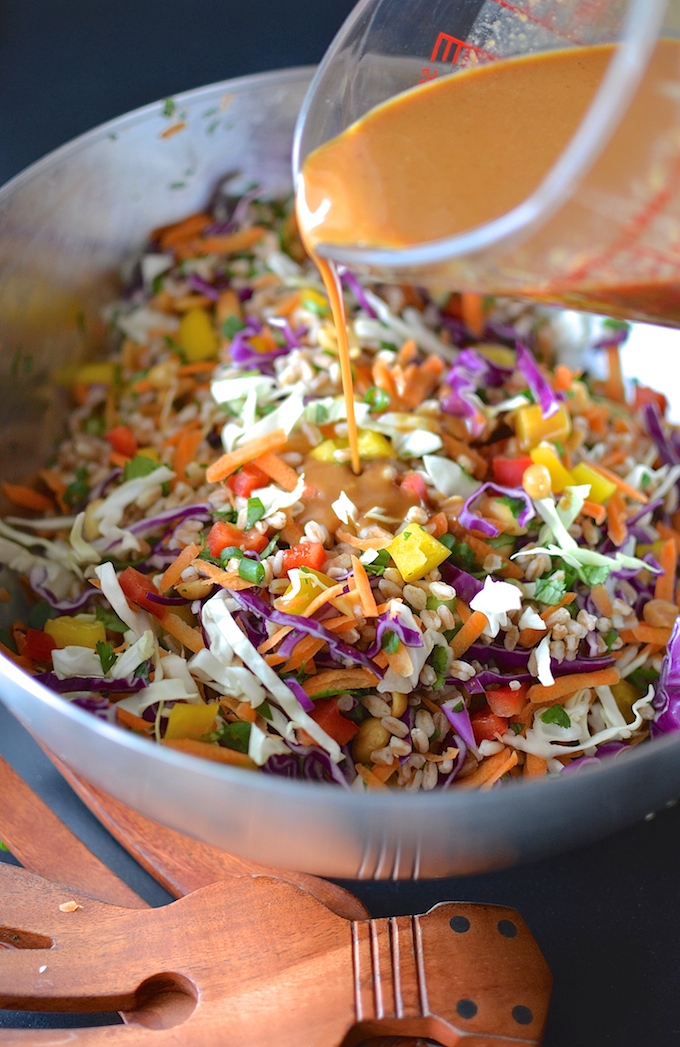 Another thing I love about this salad…the TEXTURES.  Crispy and crunchy veggies and peanuts, cold and creamy dressing, and something a little different with the use of chewy farro as our grain. If you've never tried farro, see if you can find it in your grocery store (near where you'd buy rice, couscous or quinoa) and give it a try.  It's similar to barley and cooks up just like pasta in a pot of boiling water.  I buy a quick-cooking farro from Trader Joe's that cooks up in about 10 minutes.
Em wasn't a big fan of the dressing on this salad, but loved all of the other ingredients on their own.  She was literally taking huge spoonfuls of cooked farro out of the colander and scooping it into her mouth.  She also loves snacking on raw bell peppers, carrots and peanuts, so this Rainbow Thai Farro Salad is a win-win lunch for both mama and toddler.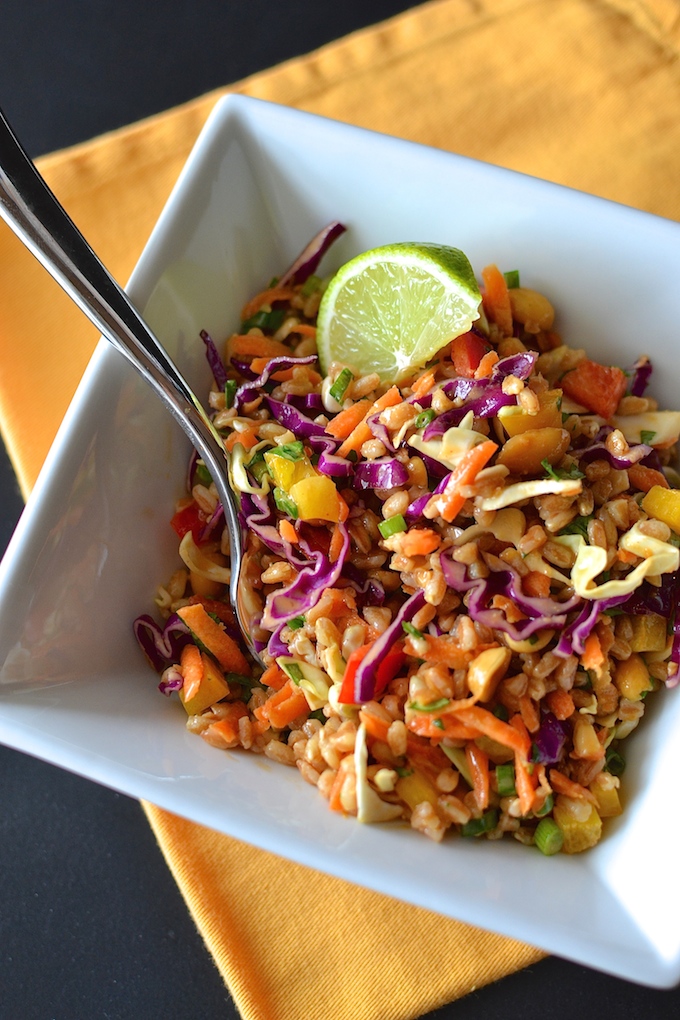 I was actually sad when these leftovers were gone.  Must make again asap.
Little Hands Can…
Older kids can help grate carrots or chop vegetables
Put the chopped vegetables, cilantro and peanuts into a large mixing bowl
Measure out the ingredients for the sauce
Whisk (or shake in a resealable bottle) the ingredients together for the dressing
Toss the salad together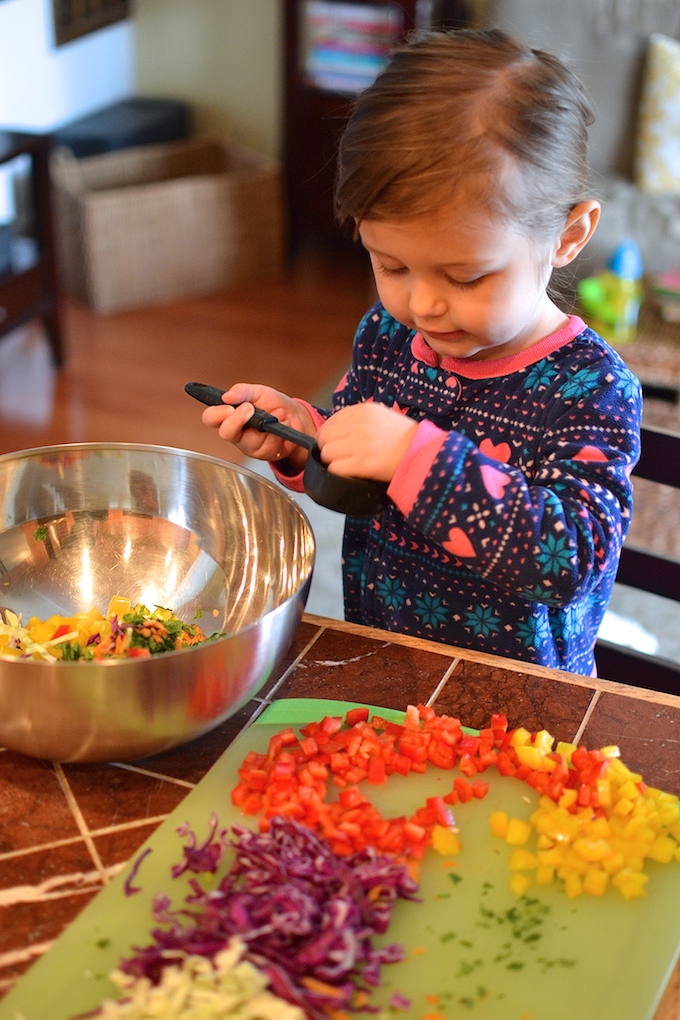 Rainbow Thai Farro Salad
Author:
Sally at Sweet Peas and ABCs
Ingredients
Sauce
¼ cup peanut butter (*see note)
2 tablespoons honey
1 teaspoon freshly grated ginger
3 tablespoons low-sodium soy sauce
1 teaspoon sesame oil
juice of 1 lime (about 2 tablespoons)
1 tablespoon rice wine vinegar
2 tablespoons water
Salad
1 8-10 ounce package farro (I use a quick-cooking farro from Trader Joe's)
1 red bell pepper
1 yellow bell pepper
3 carrots (any color)
1½ cups thinly sliced/shredded cabbage, from about 1 small head (purple or green cabbage, or a combination of both colors will work)
½ cup cilantro
¼ cup green onions (about 4-5 onions)
½ cup peanuts
extra lime wedges and peanuts for serving
Instructions
Sauce
In a large measuring cup or bowl, mix together the peanut butter and honey. Microwave for 15-20 seconds to allow the ingredients to loosen up a bit. Add the ginger, soy sauce, sesame oil, lime juice, rice wine vinegar, and water. Whisk carefully until all ingredients are thoroughly combined. You could also pour all of the ingredients into a resealable salad dressing bottle and shake until combined. The dressing should be pourable. If it's too thick, add a little more water.
Salad
Follow the package directions to cook your farro. (The 8.8 ounce package I usually buy will cook up to be about 2 cups of cooked farro.) Once cooked, drain the farro and let it cool while you prepare the rest of the salad
Wash and prepare your vegetables. Chop your bell peppers (about ½ inch pieces), peel and grate the carrots, and thinly slice the cabbage. Chop the cilantro and green onions, and coarsely chop the peanuts. Toss all of the vegetables and peanuts into a large mixing bowl.
Add the cooked, cooled farro and about ½ of the dressing. Mix well, adding more dressing to coat, but not soak, the salad.
Serve with additional lime wedges, peanuts and extra dressing.
Notes
For fresh ginger without having to peel and grate ginger root, some grocery stores may sell a ginger paste (in a tube) in the produce section.

Check the ingredient label on your peanut butter...it should just read: peanuts. That's it!
Recipe adapted from Alaska From Scratch
I'm trying out something a little different for the next few weeks…I'll be posting our "On the Side" learning activity in a related post instead of here at the bottom of the recipe!  With all the different textures and flavors in this Rainbow Thai Farro Salad, we're using our sense of taste to go on a "Sense Adventure."  Check out our Taste Sense Adventure activity here!
P.S. Send me an email ([email protected]) and let me know what you think about the recipes and learning activities being separate, but linked posts.  Thank you!
Disclaimer: As with all of our recipes, my suggestions for how kids can help with a particular recipe are based on what has worked in our kitchen.  Your child may be able to help more or less based on their age and/or ability. As always, make sure you are properly supervising kids in the kitchen.