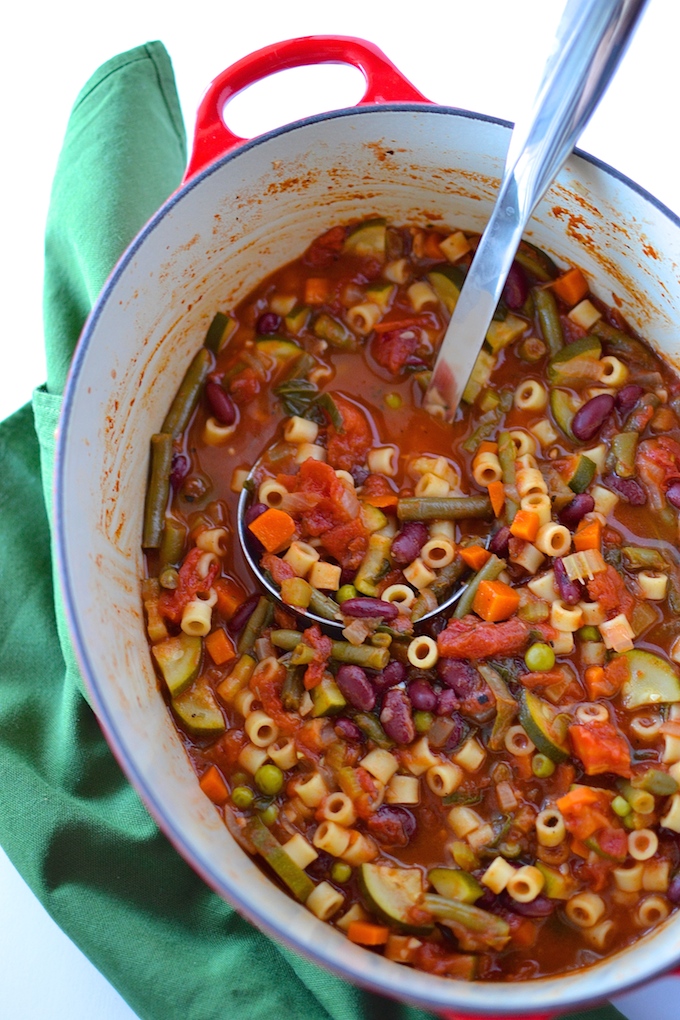 I ADORE fall.
And after our insanely hot and humid (and preggo) summer, boy am I particularly glad it's finally here. It's always been my favorite season and one of the reasons why I tell my husband I don't think I'll ever move back to California.  I'd miss the seasons too much.
We've had wonderfully-cool fall already this season (I even broke out the hat and mittens on our way to Em's preschool this week), and I've LOVED every minute of it.  Last Sunday afternoon when dinnertime rolled around, I told my husband, "I want soup." Two things I've been craving nonstop this pregnancy…vegetarian sandwiches and soup.
And you know a pregnant woman gets what she wants for dinner. Soup it is.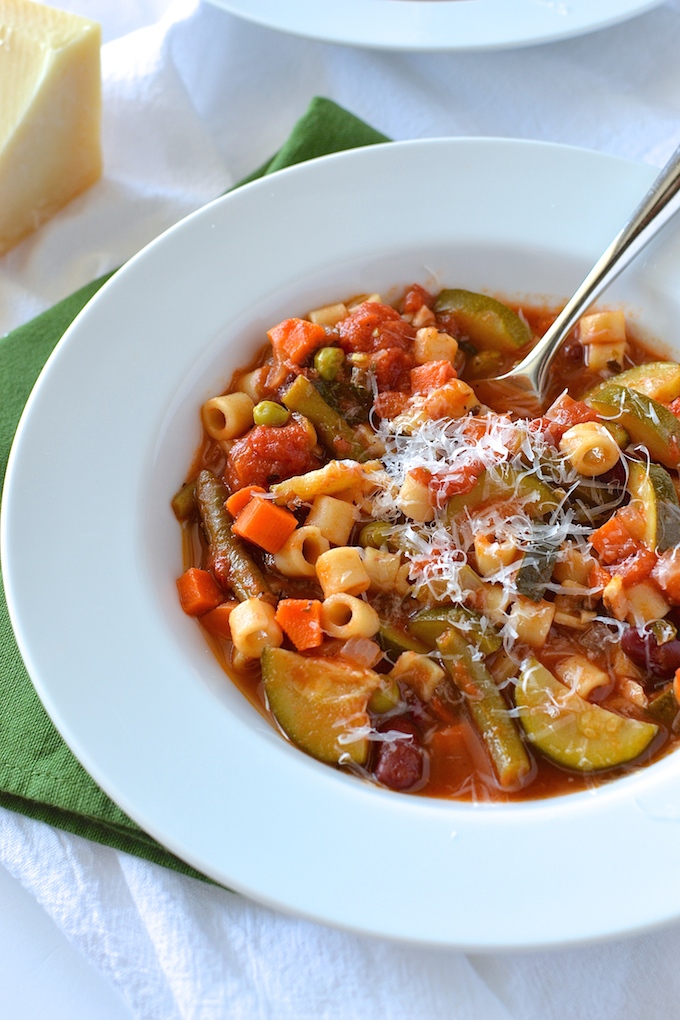 One of the greatest things about fall is the cooler weather, which brings with it wonderful meals like soup, stew and chili.
I won't get too ahead of myself…I know I'll be talking about warmer weather just as soon as the snow begins here, so I won't wish it away too quickly. This soup is perfect for this early fall time of year…although warming and comforting, it still has one foot in late summertime with a grand total of 8 garden vegetables swimming around inside a light-tomatoey broth.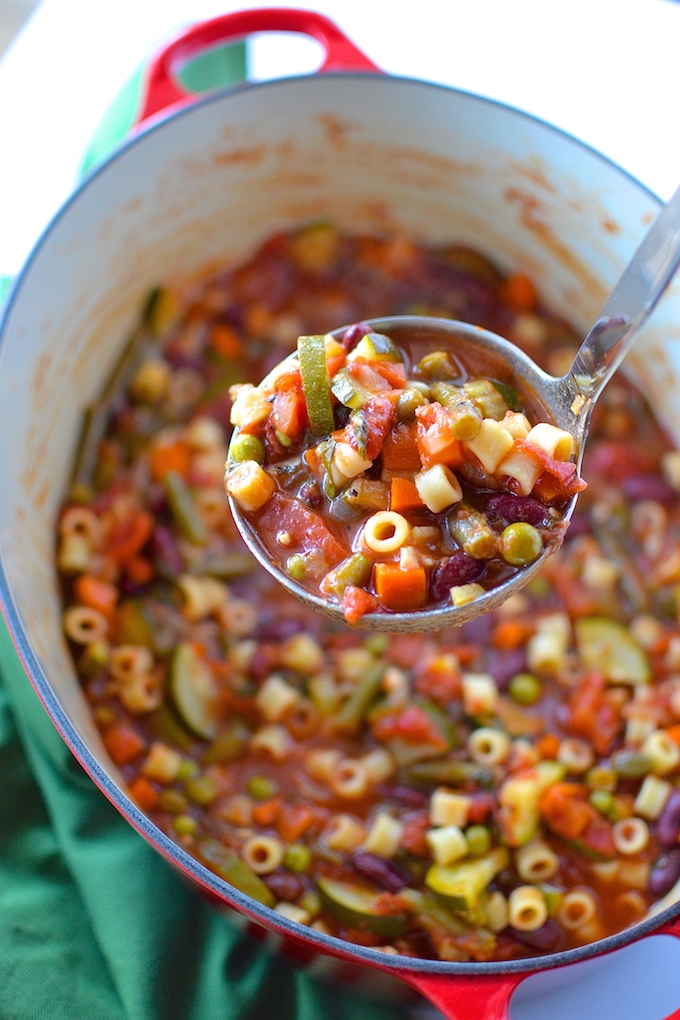 My husband likes his soup particularly thick and hearty, so this one has a high ratio of veggies, pasta and beans to broth and tomatoes. Despite my best efforts, he still loads up his bowl with an extra-generous handful of oyster crackers to soak up the last of the liquid and turn his bowl of "soup" into what looks like a veggie cracker casserole.  To each his own, I guess.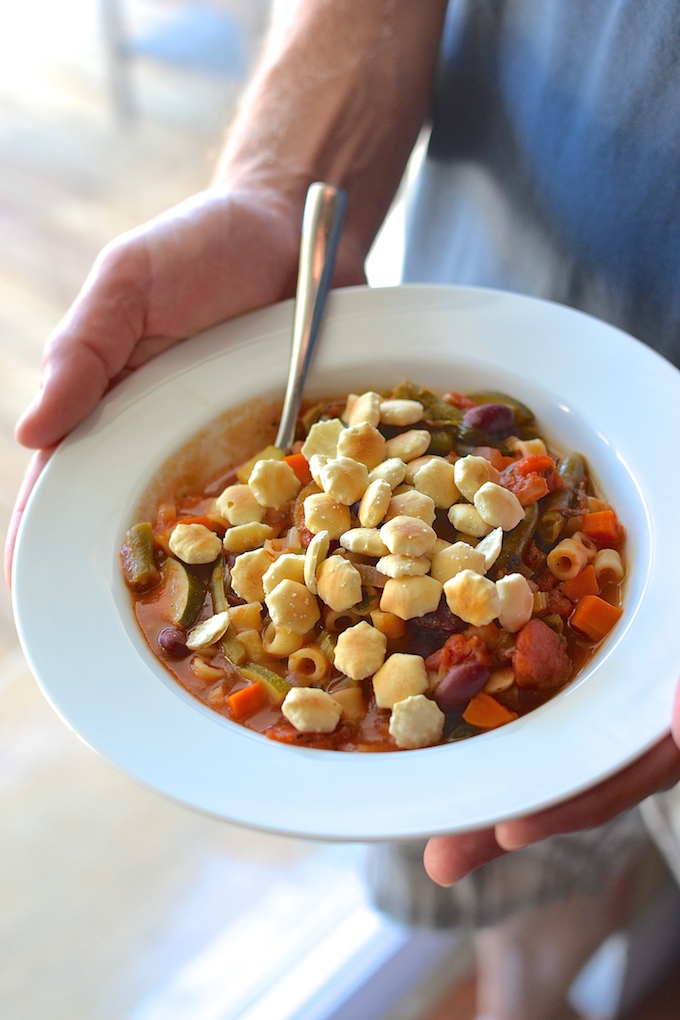 And Em?  This passes her taste test easily, with pasta, beans and tons of veggies that she loves. Even her baby doll seemed to enjoy it 🙂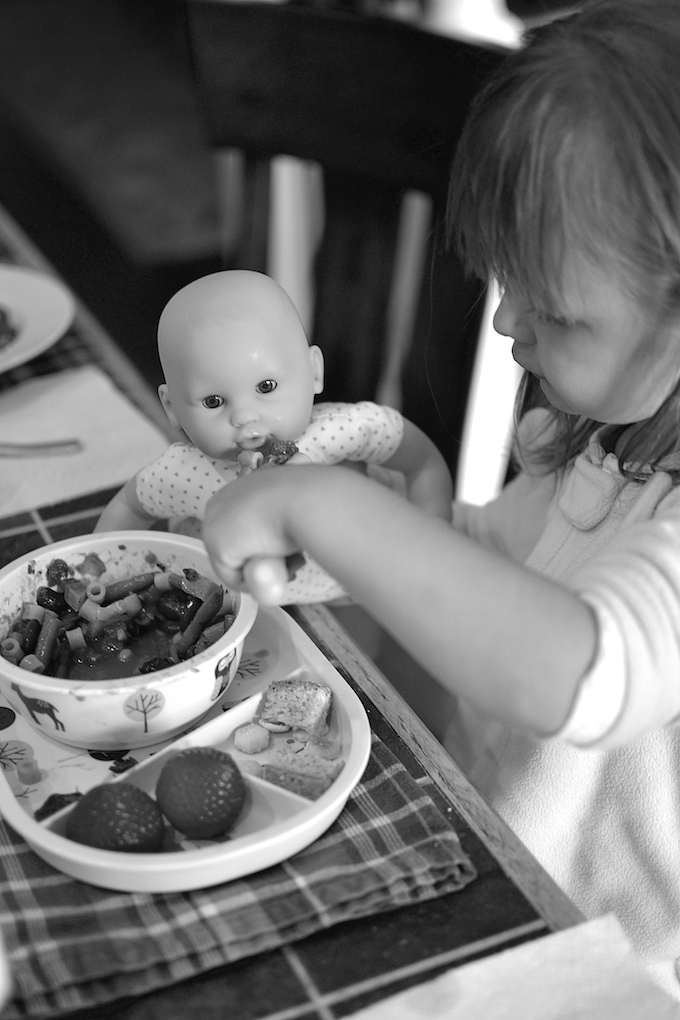 Little Hands Can…
Cut the softer vegetables, such as zucchini and green beans, and tear the swiss chard into small pieces
Toss the chopped vegetables into the soup pot (I always make sure the stove is turned off when Em helps me add things to a hot pot. I am always standing right next to her and I make sure she knows the pot is hot.)
Measure and add the herbs to the soup pot
Add the tomatoes, beans, broth, peas, and pasta to the soup pot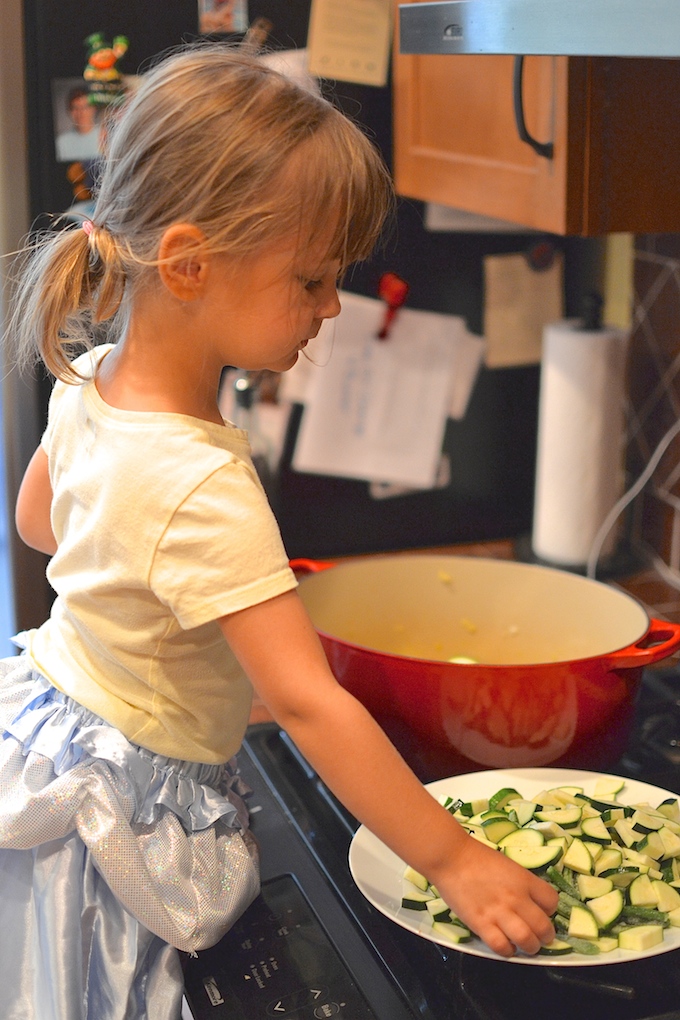 Garden Minestrone Soup
Author:
Sally at Sweet Peas and ABCs
Ingredients
2 tablespoons olive oil
1 medium onion
4 garlic cloves
2 stalks celery
3 carrots
1½ cups green beans (fresh or frozen), cut into ½ inch pieces
2 zucchini
½ teaspoon dried oregano
½ teaspoon herbs de provence
1 teaspoon salt
black pepper
1 (28 ounce) can crushed tomatoes (I like the Muir Glen brand; try fire-roasted tomatoes if you can find them)
1 (14 ounce) can diced tomatoes
4 cups broth, vegetable (or chicken broth if you're not worried about the soup being completely vegetarian)
1 can beans, kidney or cannellini beans, drained and rinsed
2 cups swiss chard or kale, from one small bunch
1 cup frozen peas
1 cup ditalini pasta (or other small pasta shape)
1 parmesan cheese rind (or ¼ cup grated parmesan if you don't have a rind), plus more grated parmesan for serving
Instructions
Prepare your vegetables. Dice the onion and mince the garlic cloves. Wash and dice your celery and carrots, and slice the zucchini into half moons. Wash and chop the kale or swiss chard and set aside.
In a large soup pot or Dutch oven, heat the olive oil over medium heat. Add the onion and cook until translucent, about 5 minutes. Add the garlic and cook until fragrant, about 1 minute. Add the diced celery, carrot, green beans and zucchini, herbs, salt and pepper. Stir and cook together for a few minutes.
Add the crushed tomatoes, diced tomatoes, broth, and beans. Let simmer for 20 minutes or until the vegetables are tender.
Add the chard/kale, peas, pasta and parmesan cheese rind (or grated cheese, if using). Let simmer for 10 more minutes or until the pasta is cooked.
Ladle into bowls and serve hot with a sprinkle of parmesan cheese.
Recipe adapted from
Ellie Krieger's Minestrone Soup
Disclaimer: As with all of our recipes, my suggestions for how kids can help with a particular recipe are based on what has worked in our kitchen.  Your child may be able to help more or less based on their age and/or ability. As always, make sure you are properly supervising kids in the kitchen.