Hello!  Thank you for being here.  I'm Sally, the writer and photographer behind Sweet Peas and ABCs.  I'm also mama to the most adorable little girl, Em, and a teacher at heart.
My husband, Em and I currently live in the great city of Chicago. I'm an avocado-loving California girl originally from sunny Orange County, and Jon is a meat and potatoes guy, from Green Bay, WI (Go Pack!).  Em, who has spent her whole two and a half years of life here in Chicago, gets a little flavor of both and is the inspiration behind this here blog.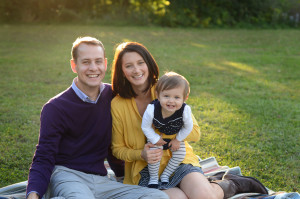 I have always loved cooking and baking for as long as I can remember.  Do you know any other twelve year olds that asked for a Ron Popeil pasta maker for Christmas?! I distinctly remember coming home from school and trying to make my own dough by experimenting with flour, sugar, and water.  Why I didn't just follow a recipe and actually make something edible, I have no idea. But I had the bug.
These days, I still have the cooking bug and when someone calls and asks where I am, the answer is usually, "in the kitchen."  What's more is that I've now got the itch to pass this love of cooking and eating to my little one.  And hopefully share some ideas that will inspire others to get in the kitchen with their kids.
Check out "About Sweet Peas & ABCs" to learn more about how this all got started and what you can expect to find on my blog.
To read about our family's approach to cooking and eating, check out our food philosophy .
If you have a question for me, or would just like to say hello, you can email me at sally@sweetpeasandabcs.com