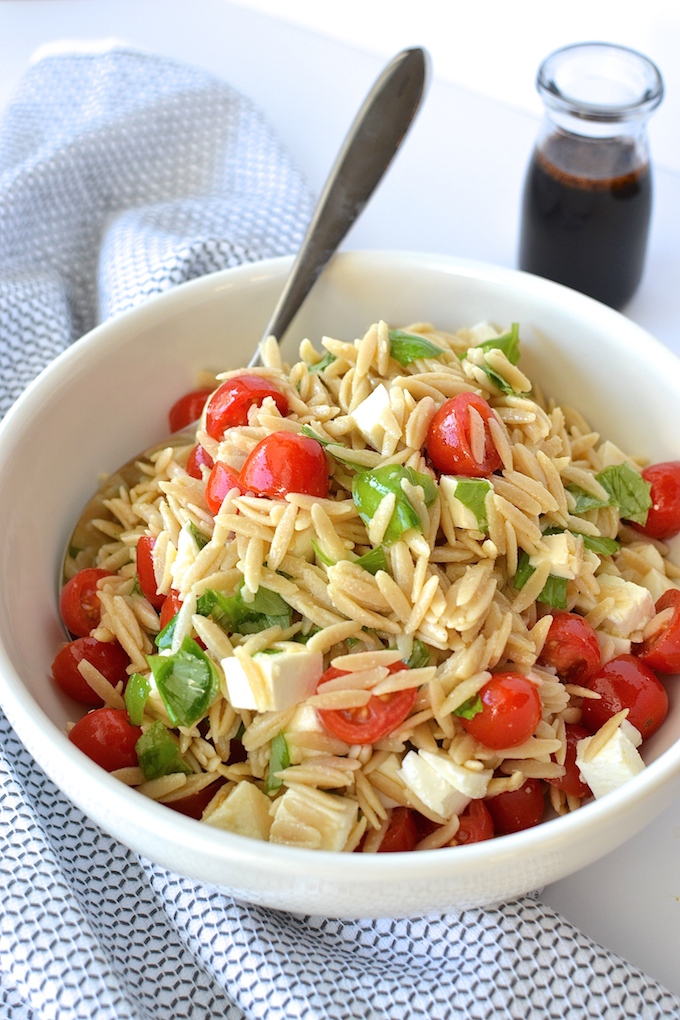 Mother's Day is tomorrow(!), so I'm going to be totally selfish and share one of MY favorites with you…this Caprese Orzo Salad with Balsamic Syrup.
Lunch is by far my favorite meal of the day…sandwiches, salads, soups…I love them all. This orzo salad though…I could eat this and only this EVERY. DARN. DAY. for lunch and I would never tire of it. Five simple fresh ingredients. That's it.
Fresh tomatoes, best from the garden in late summer, but still sweet and juicy this time of year.
Fresh mozzarella, soft and simple.
Fresh basil, I love the stuff so much I asked my wedding florist to put some in my bouquet.
Pasta. Oooohhh, pasta. My favorite thing to eat, ever.
And this flat-out-amazing balsamic syrup.  Thick and gooey and sweet balsamic SYRUP drizzled over it all.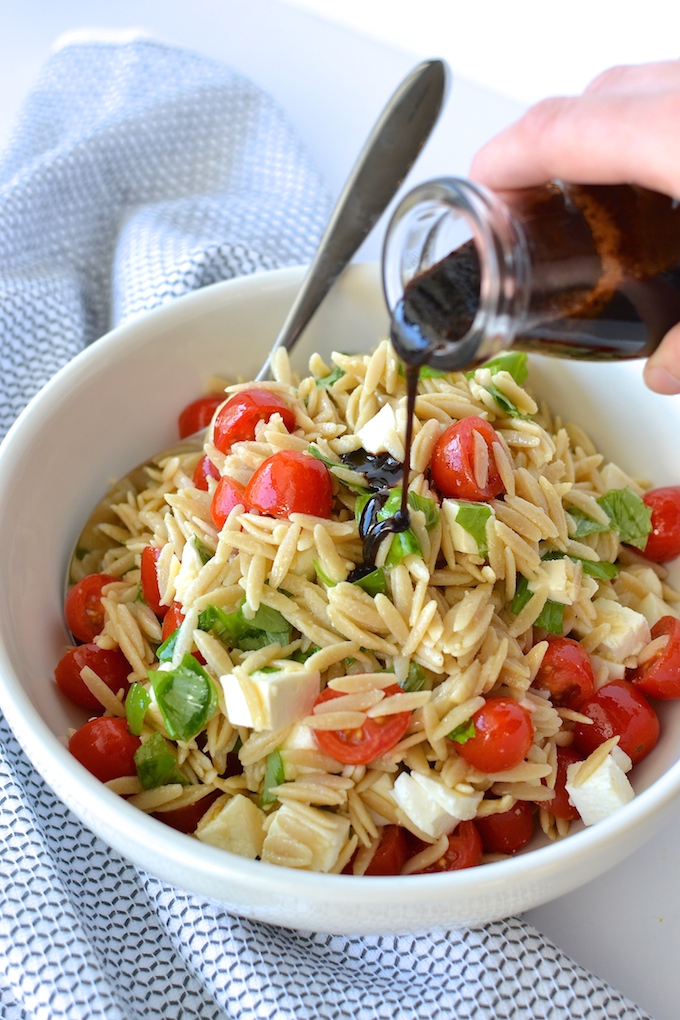 If you have a taste for olives, pickles, vinegars, etc., like I do, you undoubtedly love vinegar-based dressings like this one.  Yet, when it's boiled down, balsamic vinegar looses a bit of it's acidity and becomes incredibly thick and sweet.  Almost like chocolate syrup.  Almost.
This salad seems to work best when you dress the mozzarella, basil, tomatoes and orzo simply with olive oil, salt and pepper. Then drizzle the balsamic syrup over each separate serving, like a topping.  You'll most likely have leftovers of this crazy-good syrup, so I've dreamed up some suggestions for you…
Pour it over a simple green salad with some olive oil for a sweet dressing
Drizzle it over baked or grilled salmon (where the original recipe for the balsamic syrup came from…thanks, Giada!)
Spoon over grilled chicken
Spread on a sandwich instead of mayo or mustard
Spoon over a caprese omelet
Drizzle over a margherita pizza
Really, this dish could not fit me more perfectly. So, since it's Mother's Day, I'm making this for myself. After all, we moms deserve to have what we love on this special day, right?!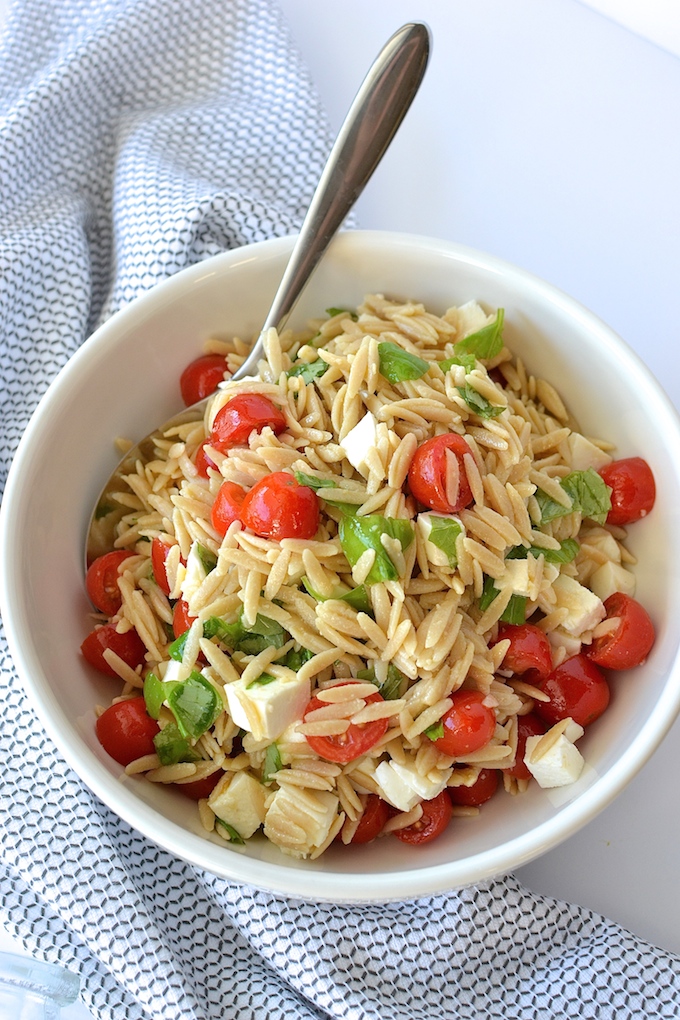 What would you like to eat this Mother's Day?
Little Hands Can…
Measure and add the syrup ingredients to the pot
Wash the grape tomatoes
Wash and tear the basil leaves
Toss the orzo with olive oil, salt, pepper, tomatoes, mozzarella and basil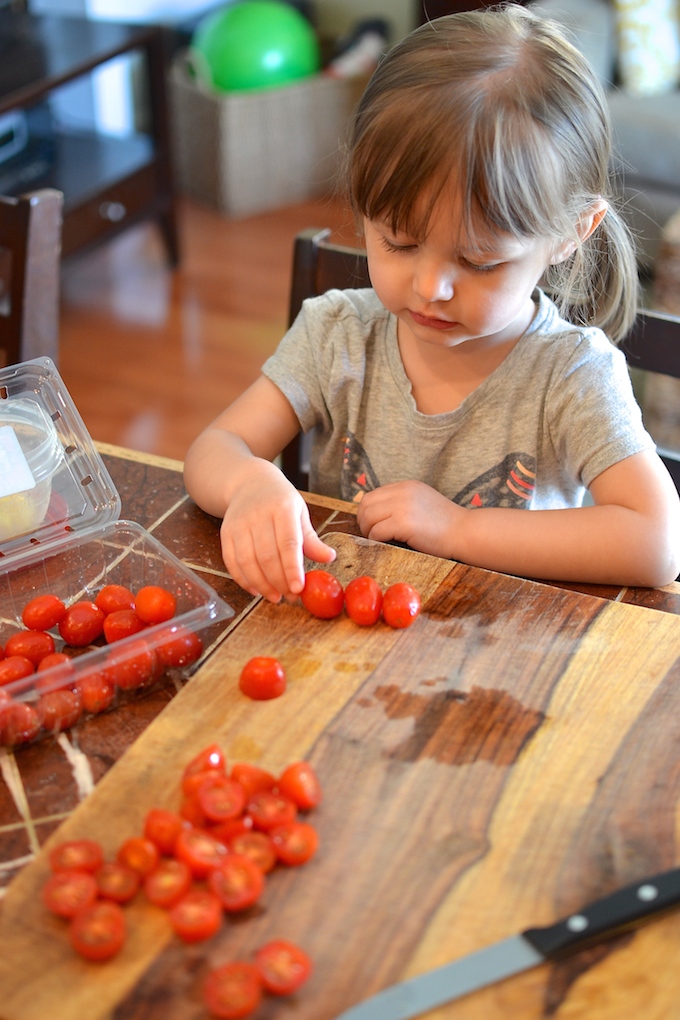 Caprese Orzo Salad with Balsamic Syrup
Author:
Sally at Sweet Peas and ABCs
Ingredients
Balsamic Syrup
⅔ cup balsamic vinegar
2 tablespoons honey
1 tablespoon dijon mustard
Salad
½ box orzo pasta, whole wheat or regular
1 pint grape tomatoes
6 ounces fresh mozzarella
½ cup packed fresh basil leaves
¼ cup olive oil, plus 2 tablespoons olive oil
salt and pepper
Instructions
Balsamic Syrup
Add the balsamic vinegar, honey and dijon mustard to a small pot. Heat to a boil over medium heat. Reduce the heat to medium-low and let the mixture simmer for 10 minutes. Turn off the heat and let the mixture cool completely. It will thicken considerably as it cools.
Salad
Cook the orzo according to package directions. One box of orzo cooks up to be a lot of cooked pasta, so only ½ box is needed. Drain the orzo and let it cool slightly. Pour the orzo into a large bowl. Toss with 2 tablespoons of olive oil so the orzo doesn't stick together.
Wash and slice the grape tomatoes in half and add them to the cooked orzo. Cube the fresh mozzarella and add them to the bowl. Wash and tear the basil leaves and add them to the bowl as well. Toss everything together with ¼ cup olive oil and season to taste with salt and pepper.
After dishing out your serving, drizzle with the balsamic syrup to taste.
Notes
You can find orzo near the other dried pasta in your regular grocery store. If you're unable to find it, any small pasta shape will work just as well.

Store the leftover orzo salad in the fridge for up to 3-5 days. The syrup will keep for up to 2 weeks in a sealed container in the fridge.
Balsamic syrup recipe adapted from
Giada de Laurentiis
Disclaimer: As with all of our recipes, my suggestions for how kids can help with a particular recipe are based on what has worked in our kitchen.  Your child may be able to help more or less based on their age and/or ability. As always, make sure you are properly supervising kids in the kitchen.