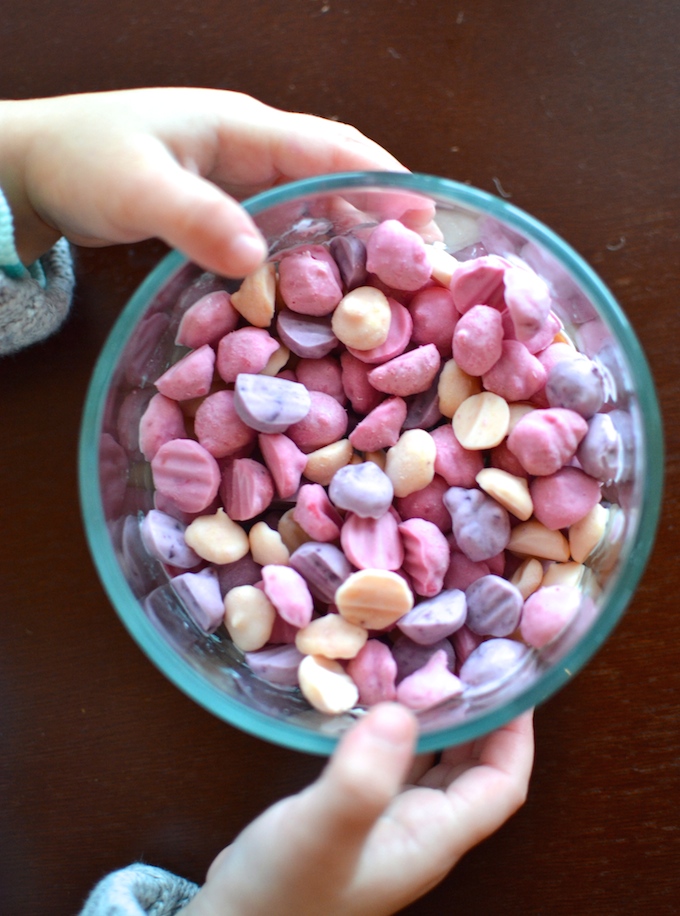 Looks like a little bowl of Easter candy, huh?!  April Fools!  No, that's not right either.  Wishful thinking. It's still January.
Although these little treats look like candy, they're actually one of our favorite healthy kid snacks…Frozen Yogurt Drops.  Whole-milk plain yogurt and real fruit puree, frozen into bite-size little drops for little mouths.  And even though it's the middle of winter, kids always like frozen treats and these Frozen Yogurt Drops hit the spot.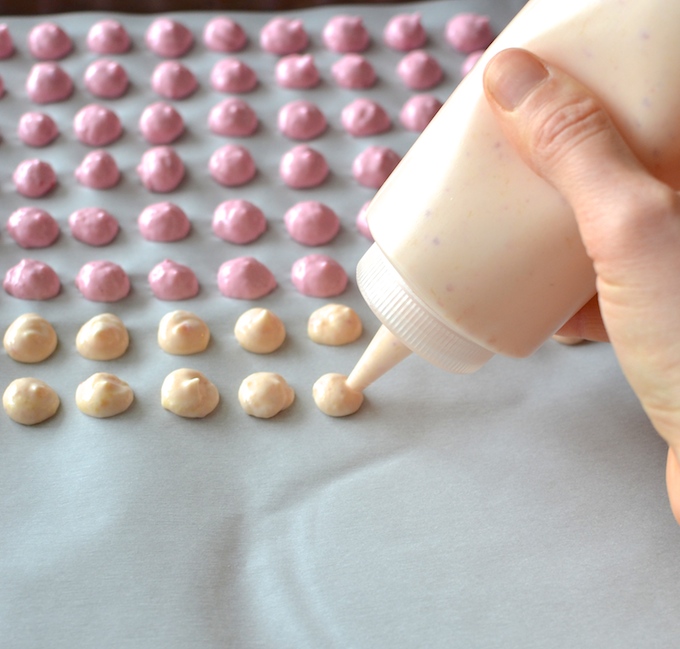 First things first…use whole-milk, plain Greek yogurt.  Greek yogurt because of it's thick, creamy texture…which I personally prefer, but it also helps keep the yogurt from running all over the pan.  Whole-milk yogurt because I'm totally in favor of eating real food (as close to the source as possible), and in my opinion, whole milk yogurt is less processed, more real than low-fat or non-fat yogurt.  We're also learning now, thanks to Michael Pollan, that the claims we heard about "low-fat" and "non-fat" being better for our bodies may not necessarily be so.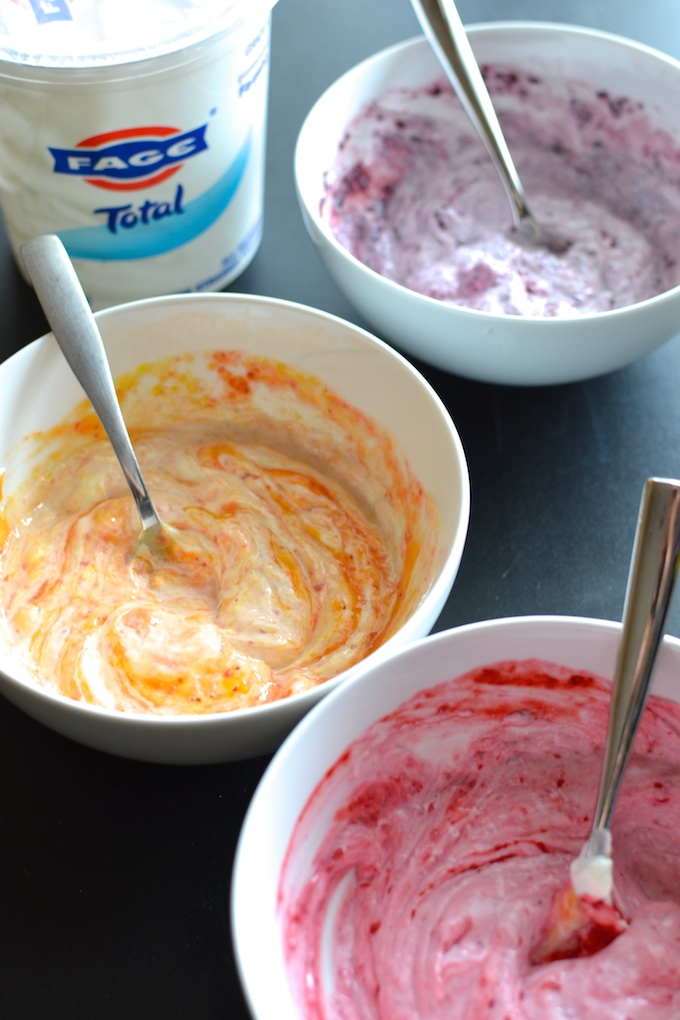 And plain yogurt because I REALLY don't like the other ingredients added to flavored yogurt… ingredients that don't need to be in yogurt, namely sugar (which is sometimes listed before the actual fruit in the yogurt, meaning there is more sugar than fruit in there) and ingredients that shouldn't be in any of our food products because, quite frankly, they're just not good for you (I'm looking at you… Red #40, aspartame and high fructose corn syrup, among others.)
Flavor these Frozen Yogurt Drops with any real fruit your kids like (frozen fruit actually works really well here, which is perfect for these cold months when fresh berries and mango aren't in season).  We like organic strawberry, blueberry, mango and raspberry because they're easy to find in the freezer section, and blend up smoothly.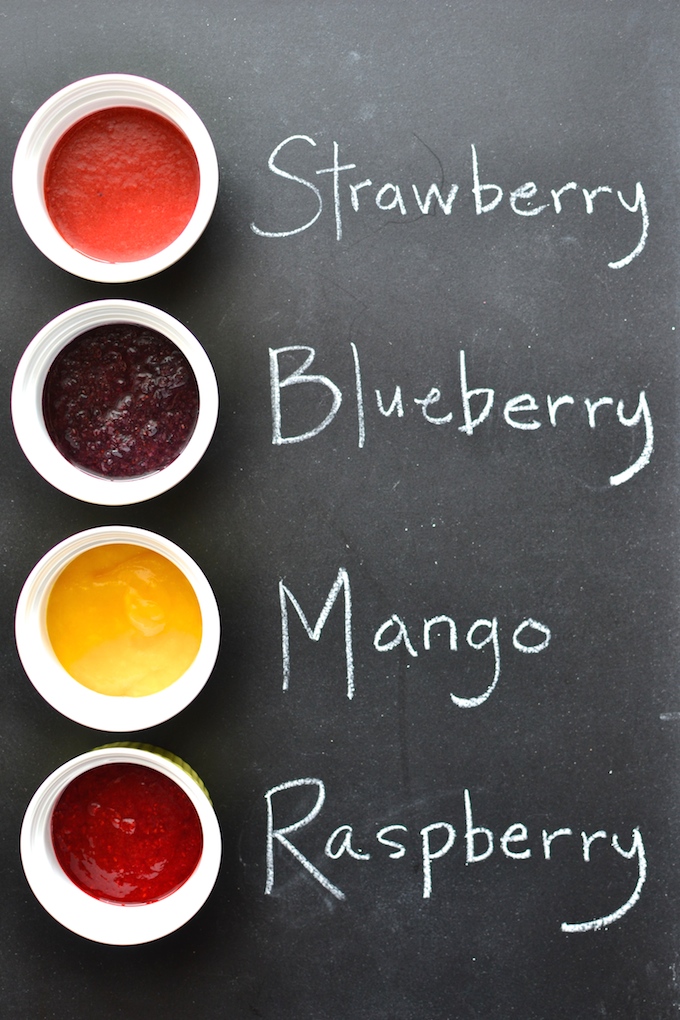 You can even mix flavors, or add some honey or pure maple syrup if you want to sweeten things up a bit.  For these drops, we made Blueberry Honey, Strawberry Mango and Raspberry Banana.  Use a squeeze bottle (we purchased a few from World Market) or simply spoon your yogurt mixture into a small ziploc bag. Snip off a small corner and use it as a DIY piping bag to pipe your drops.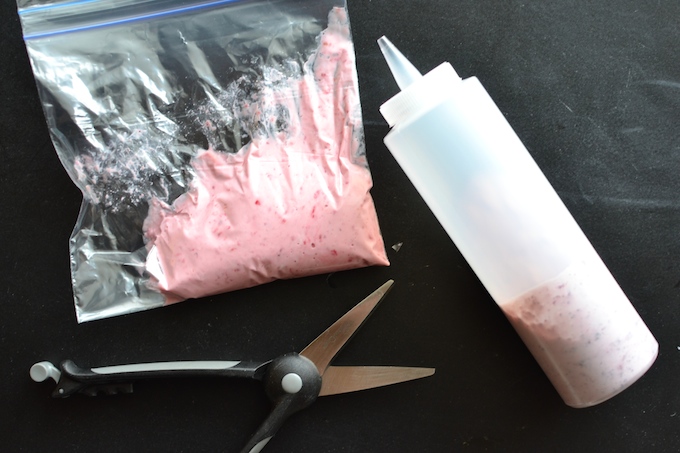 Freeze for 20 minutes and they're ready to pop into little mouths.  Em's been eating these since she was 7 or 8 months old…a perfect little finger-food for babies because they practically melt in your mouth. A fun, healthy, real-food snack.

Little Hands Can…
Scoop and measure the yogurt
Older kids can help puree the fruit in a food processor
Mix the yogurt and fruit puree
Make yogurt drops using a squeeze bottle or DIY piping bag
Peel frozen drops off of the parchment paper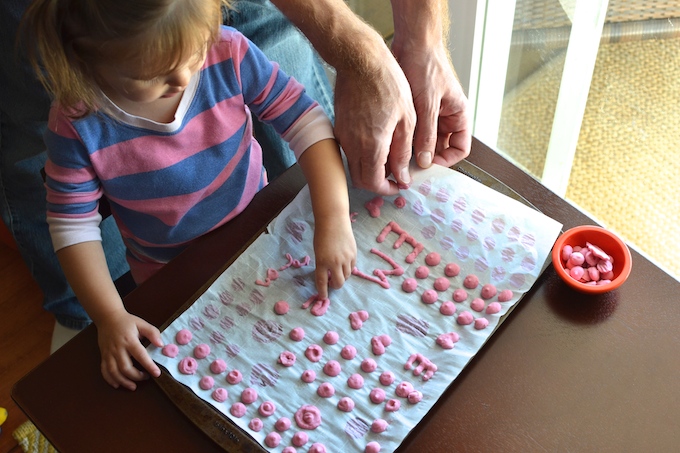 Frozen Yogurt Drops
Serves:
1 cup of yogurt drops
Ingredients
Frozen fruit (strawberry, mango, blueberry, raspberry, or any kind you like; you'll only need about ¼ cup of fruit puree)
Plain Greek yogurt (I like using whole-milk yogurt. Greek works best because of it's thick texture)
Honey or pure maple syrup (optional)
Instructions
Line a small sheet pan with parchment paper (make sure your sheet pan can fit in your freezer).
Thaw ¼ - ½ cup of your frozen fruit (depending on how many drops you want to make). Using a food processor or blender, puree the fruit until very smooth. Set aside.
In a small bowl, measure ½ cup of plain Greek yogurt. Add 3-4 tablespoons of the fruit puree to the yogurt (depending on your taste) and mix well.
Add a drizzle of honey or pure maple syrup to sweeten the yogurt a bit if you'd like.
Spoon the yogurt mixture into a squeeze bottle or small ziploc bag (snip off a small corner for piping). Pipe small drops (about the size of a dime or penny) onto your prepared sheet pan.
Freeze for at least 20 minutes and up to a few hours. Remove the pan from the freezer and peel off the yogurt drops. Enjoy immediately or store leftover drops in a small, freezer-safe container in the freezer for several weeks.
On the Side
Without even knowing it, children are working on pre-writing skills when they are squeezing a bottle to make Frozen Yogurt Drops.  Activities like squishing play dough, rolling cookie dough, juicing an orange, and squeezing a bottle to pipe yogurt drops or decorate cookies are all helping to build finger and hand strength and control.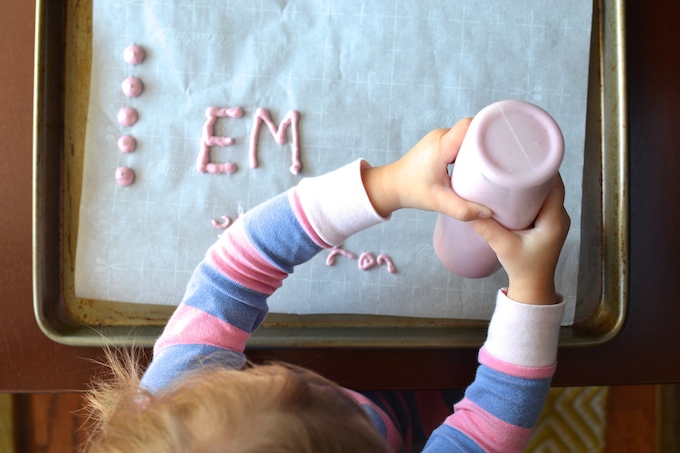 When a child has developed fine motor skills, he is able to control his fingers individually, rather than using his whole fist to grab at things like an infant does.  In order to develop these skills, children need to time practice using their fingers and hands to strengthen their finger, hand and arm muscles. They will use these same skills to hold a pencil to write as they get older.
This recipe is a great way to get your toddlers involved with preparing a snack AND work their little hands at the same time.  Em loves squeezing the bottle to create her own yogurt drops, and although at this age she's not quite able to make any discernible shapes, it is still good practice for her hands.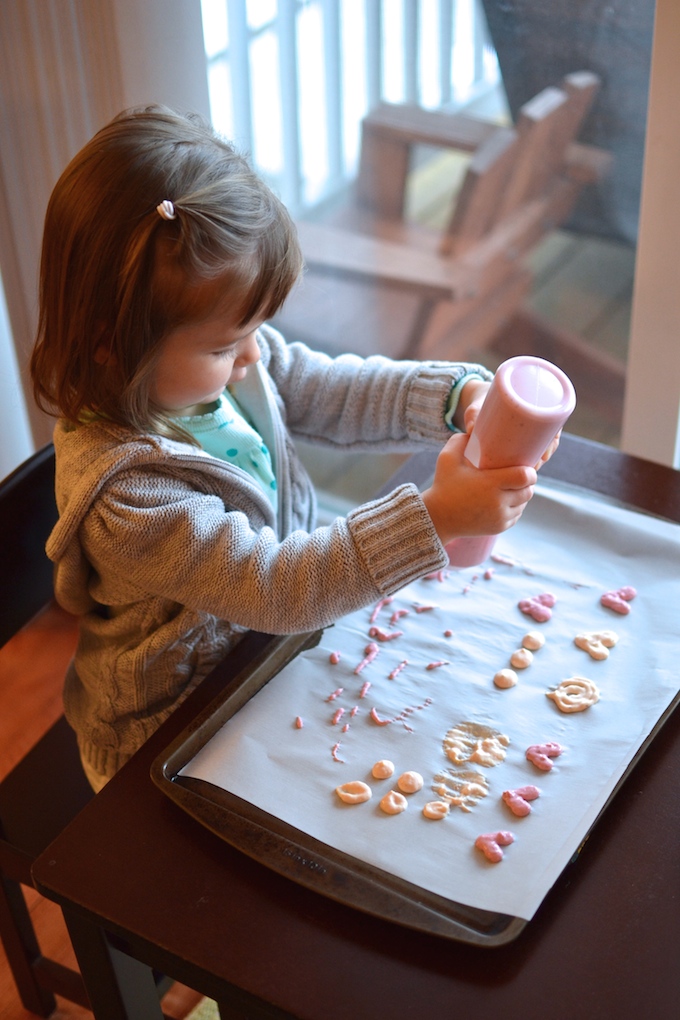 If you have older children, preschool or school-age children, whose fine motor skills are more developed, use this activity to make certain shapes with the yogurt.  Kids can pipe letters, numbers, and patterns, or make arrays to practice multiplication.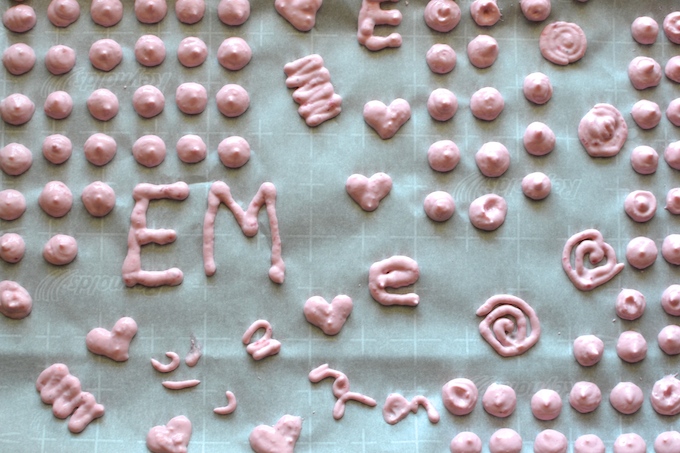 Looking for more activities to develop pre-writing skills? Here are some more fine motor squeezing activities from Teaching 2 and 3 Year Olds.
Disclaimer: As with all of our recipes, my suggestions for how kids can help with a particular recipe are based on what has worked in our kitchen.  Your child may be able to help more or less based on their age and/or ability. As always, make sure you are properly supervising kids in the kitchen.