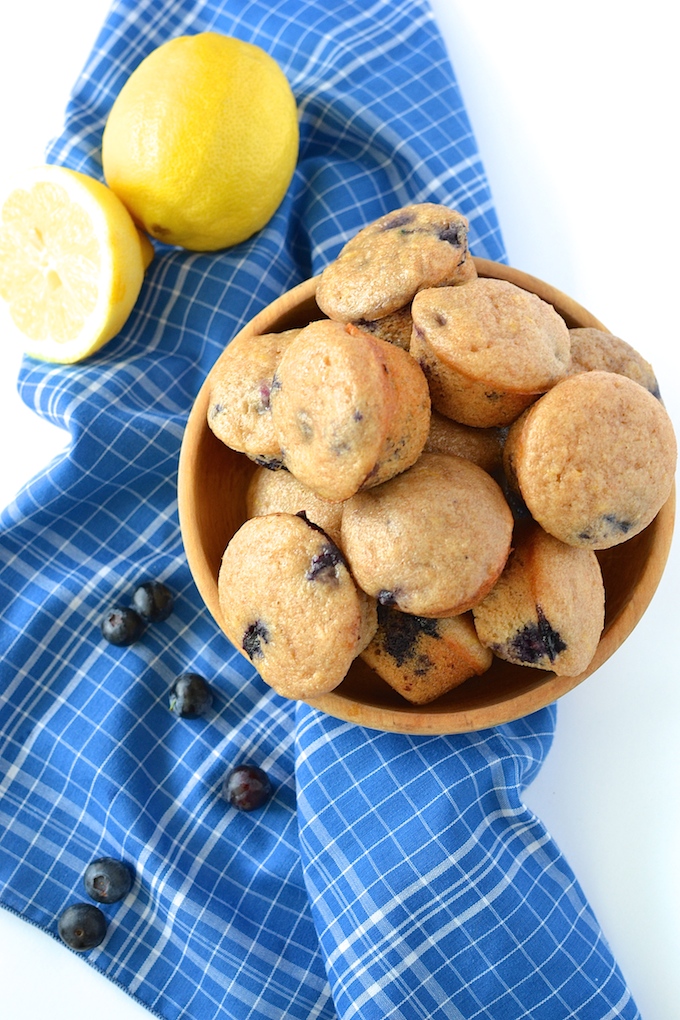 We like our muffins around here. Minis most of the time. We eat them at least once or twice a week, usually when we're running late for a class and need to grab a quick breakfast for the car ride. Em isn't much of a breakfast eater, so mini muffins are perfect for her. And seeing as it's getting to be (slightly) warmer here in Chicago, we needed a spring-like muffin for our freezer stash.
Enter these egg-free Lemon Blueberry Muffins.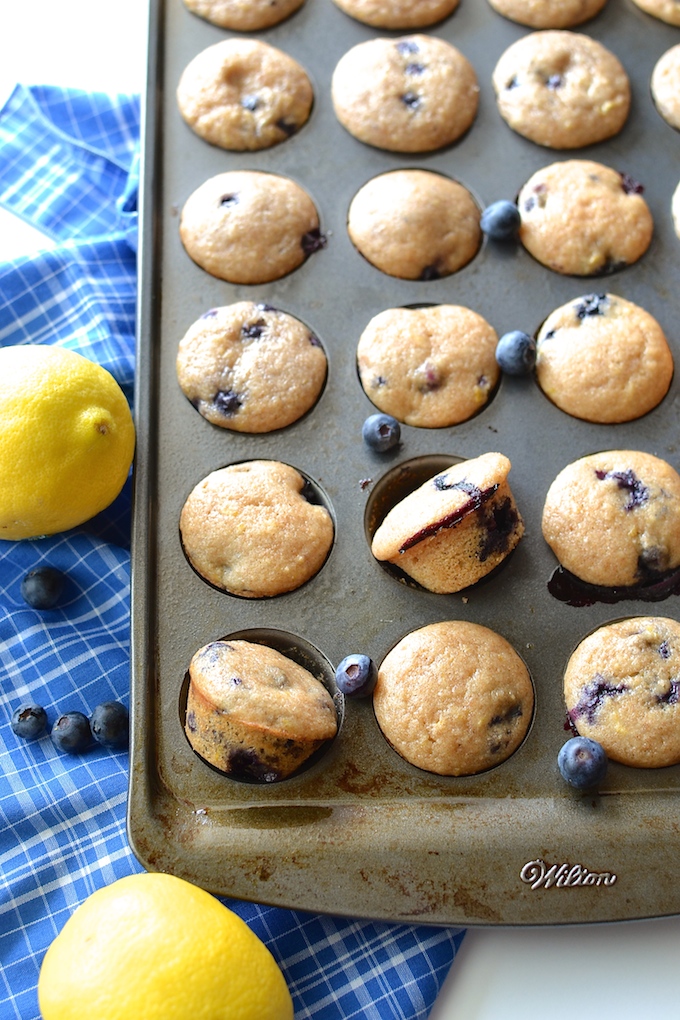 I'm always pleasantly surprised at how light and fluffy egg-free baked goods can be. When I first started dabbling in egg-free baking, I thought I was doomed to dry and dense baked goods.  But the more I play in the kitchen, the more great alternatives I discover for egg replacements. A little extra moisture (usually from greek yogurt or applesauce) and a little extra leavening agent and you won't even miss the eggs!
A few cook's notes with these Lemon Blueberry Muffins…
Add the lemon zest to the dry ingredients. Mix it around well with a whisk or your fingertips so the zest perfumes everything before you add the wet ingredients. And make sure to zest TWO WHOLE lemons… no skimping. The zest is where all that lemony flavor is.
Use fresh blueberries. You could use frozen blueberries in a pinch or when fresh aren't in season, but fresh really are best. When I tried using frozen blueberries, the muffins still tasted great, but they were a little more dense and the tops didn't firm up as well.  Fresh blueberries keep their shape, but burst just a little bit inside each muffin as they bake.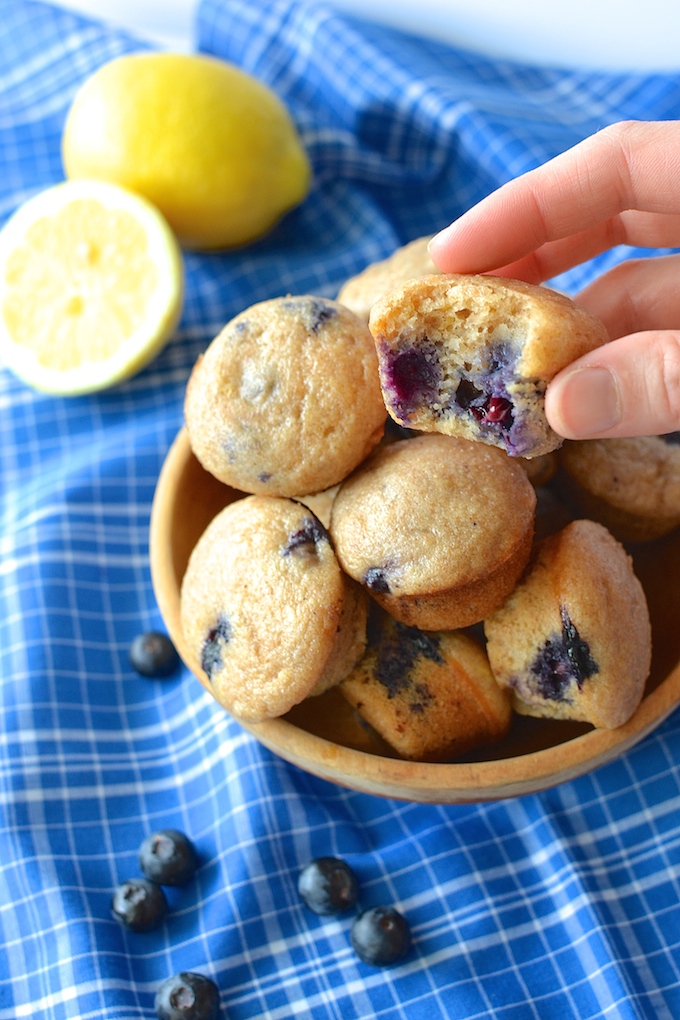 Have you tried baking egg-free?
Little Hands Can…
Measure and add the dry ingredients to the bowl
Use fingers to combine the lemon zest with the dry ingredients
Measure the wet ingredients and whisk together
Add the blueberries and fold into the batter (teach them how to fold them in gently so they don't crush the blueberries)
Scoop the muffin batter into the muffin pan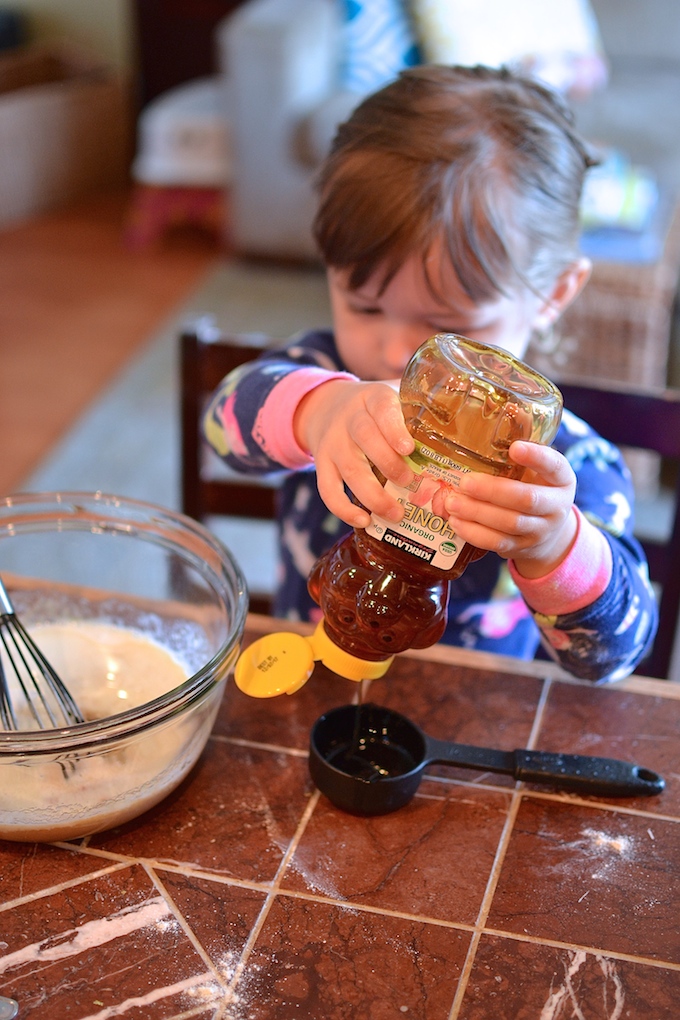 Lemon Blueberry Muffins (Egg-Free)
Author:
Sally at Sweet Peas and ABCs
Ingredients
1 cup all-purpose flour
¾ cup whole wheat flour
½ cup sugar
1¼ teaspoons baking powder
½ teaspoon baking soda
½ teaspoon salt
zest of 2 lemons
1 cup applesauce
½ cup milk (could use soy or almond milk)
¼ cup oil (vegetable or coconut oil)
¼ cup honey
1 teaspoon pure vanilla extract
1 heaping cup fresh blueberries (from a ½ pint container)
2 more teaspoons flour, any kind
Instructions
Preheat oven to 350 degrees.
In a large bowl, whisk together all-purpose flour, whole wheat flour, sugar, baking powder, baking soda, salt and all of the lemon zest. Use a whisk or your fingertips to mix the ingredients together well, making sure you work the zest into the dry ingredients.
In a medium bowl, whisk together the applesauce, milk, oil, honey and vanilla. Add the wet ingredients to the dry ingredients and mix using a large spatula until just combined.
Toss the fresh blueberries with a few teaspoons of flour to coat them so they don't sink to the bottom of the muffins. Add the blueberries to the muffin batter and fold in gently.
Scoop the muffin batter into a greased or paper-lined muffin tin, filling each about ¾ full. I like to use a cookie dough scoop for mini muffins.
Bake at 350 degrees for 12-13 minutes for mini muffins and 17-18 minutes for regular size muffins. Let the baked muffins cool slightly in the pan before moving to a cooling rack to cool completely.
Notes
Store on the countertop for up to three days in an airtight container. You could also store the muffins in a freezer bag inside the freezer for up to one month. Just pull out however many you need and thaw in the microwave or on your countertop.
These Lemon Blueberry Muffins are vibrant with the colors yellow and blue! With this recipe, we're learning more about the colors of everyday things with an adorable picture book, Lemons Are Not Red by Laura Vaccaro Seeger. Check out our book recommendation!
Disclaimer: As with all of our recipes, my suggestions for how kids can help with a particular recipe are based on what has worked in our kitchen.  Your child may be able to help more or less based on their age and/or ability. As always, make sure you are properly supervising kids in the kitchen.