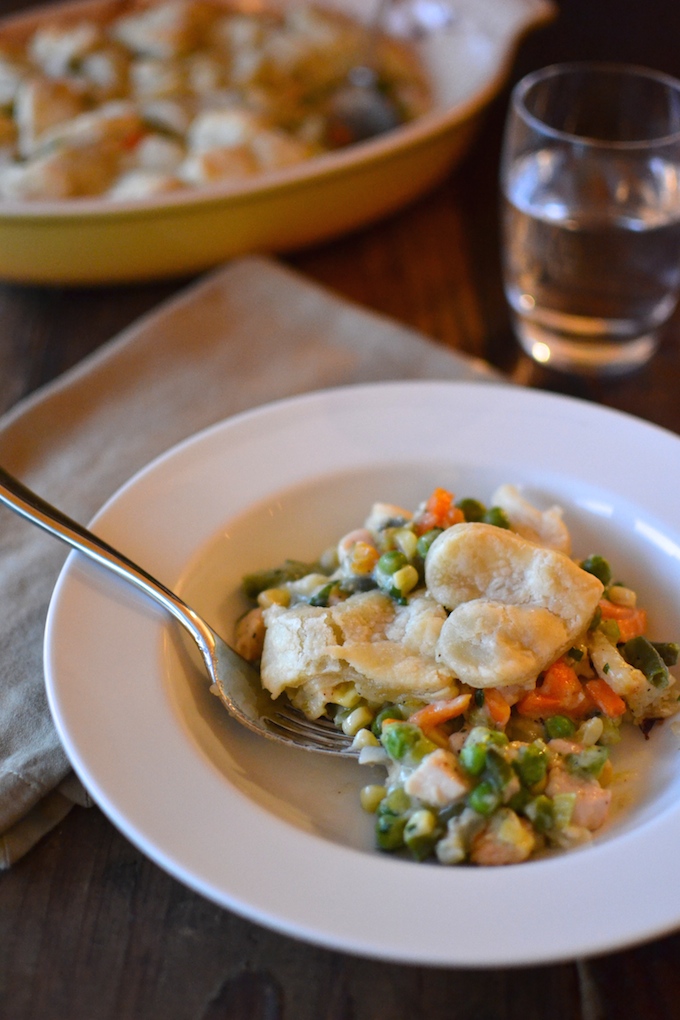 I had to start here.  This is my daughter's favorite meal, so it's only fitting that I start here.  It was her first three-word phrase, uttered when she was only 17 months old.  And if you ask her what she wants for breakfast, lunch or dinner, she'll sweetly say, "Mama's Pot Pie."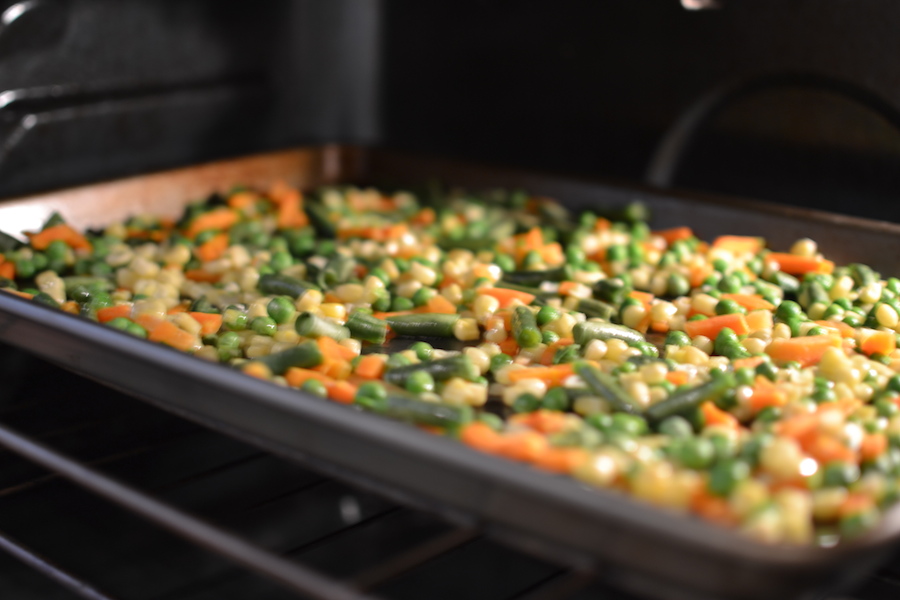 She's onto something here.  This is pretty darn good chicken pot pie, loved by everyone from little ones to grandparents.  Loaded with chunks of chicken and eight different vegetables (yes!) and herbs in a creamy sauce, this is a great all-in-one meal.  I admit that it does take some time, but with some store-bought substitutions (ie. rotisserie chicken and pie crust sheets), it could easily be a weeknight meal.
Warm and comforting, it hits the spot now that fall is here and cooler weather is on it's way.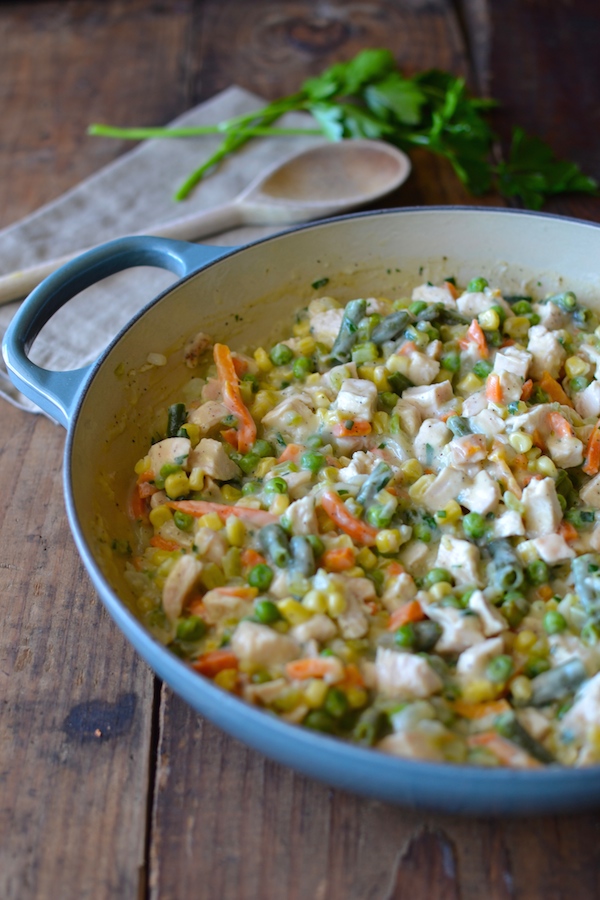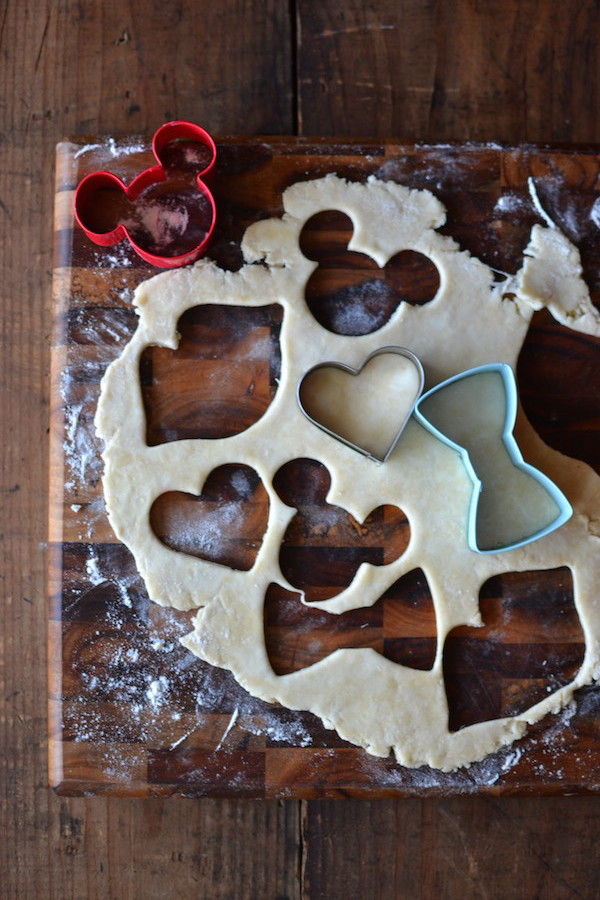 When your little one asks for something so often, you make it as often as you can.  Mickey and heart shapes and all.
 
Little Hands Can…
Toss the vegetables with oil and spread them on a sheet tray
Shred the cooked and cooled chicken
Pick herbs, wash them and take the leaves off of the stems.
Roll out the pie dough and use cookie cutters to cut out shapes for topping the filling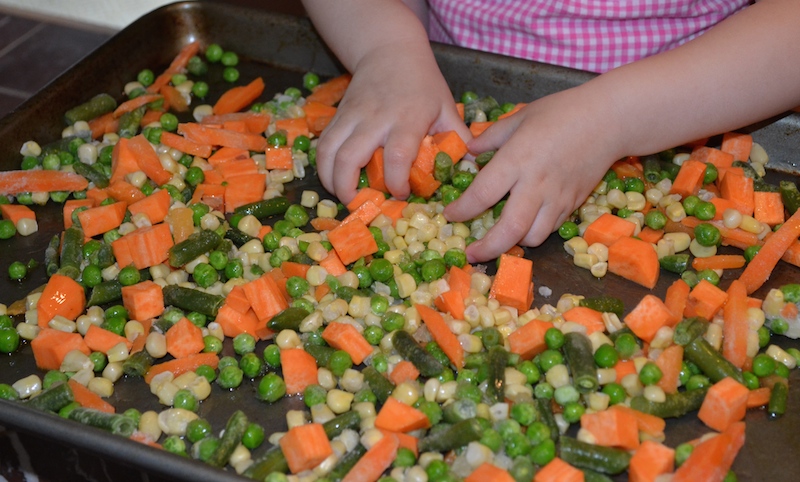 Mama's Pot Pie
Ingredients
4 cups (2 small bags) frozen mixed vegetables (including peas, carrots, corn and green beans)
1-2 tablespoons olive oil
3 tablespoons butter
¾ cup chopped yellow onion (one small or ½ medium/large onion)
¾ cup chopped celery (about 3 large or 4 small stalks)
1 cup chicken broth or stock
1 cup milk
3 tablespoons flour
2 tablespoons fresh parsley, chopped
1 teaspoon fresh thyme leaves, chopped
1 teaspoon salt
½ teaspoon black pepper
2 cups cooked cubed or shredded chicken (usually from about two medium/large breasts)
1 sheet pie dough (homemade or store bought)
Instructions
Preheat oven to 400 degrees.
Toss frozen vegetables with oil and spread evenly on a sheet pan. Bake in the oven for 20 minutes, stirring vegetables halfway through, until they are slightly browned. Remove from the oven and set aside to cool while you make the sauce.
In a large saute pan, melt the butter over medium heat. Cook the onion and celery until soft, but not brown. Stir frequently, about 8-10 minutes.
Meanwhile, in a small pot, heat the milk and chicken broth together on low heat. You just want to warm them through. Alternatively, you could pour both into a glass microwavable measuring cup and microwave for 1½ minutes to warm the mixture. A warm liquid will help your white sauce thicken more easily.
When onion/celery mixture is soft, add the flour to the pan and cook for 1-2 minutes.
Whisk in the warm broth/milk mixture and cook until thickened, about 3-5 minutes.
Add the parsley, thyme, salt and pepper.
Toss the browned vegetables and chicken in the sauce.
Pour the filling into a greased 9x12 baking dish or individual ramekins.
Roll out your pie dough to about ¼ inch in thickness. Invite your child to cut out fun shapes using cookie cutters. Lay the dough shapes on top of the filling, overlapping them to completely cover the top.
Bake in a 400 degree oven for 20-25 minutes until crust is golden brown.
Notes
You can tell the sauce is thick enough by dipping a wooden spoon into the sauce and running your finger down the back of the spoon. If the sauce stays separated, it's thick enough.
On the Side
This recipe is a rainbow of colors, so it's a great way to introduce kids to the idea of "eating a rainbow." "Eating a Rainbow" basically means you should aim to eat a range of different colored fruits and vegetables each day and throughout the week.  When you eat red, orange, yellow, green, blue, purple and white fruits and vegetables, your body gets a more complete variety of nutrients…what it needs to be strong and healthy.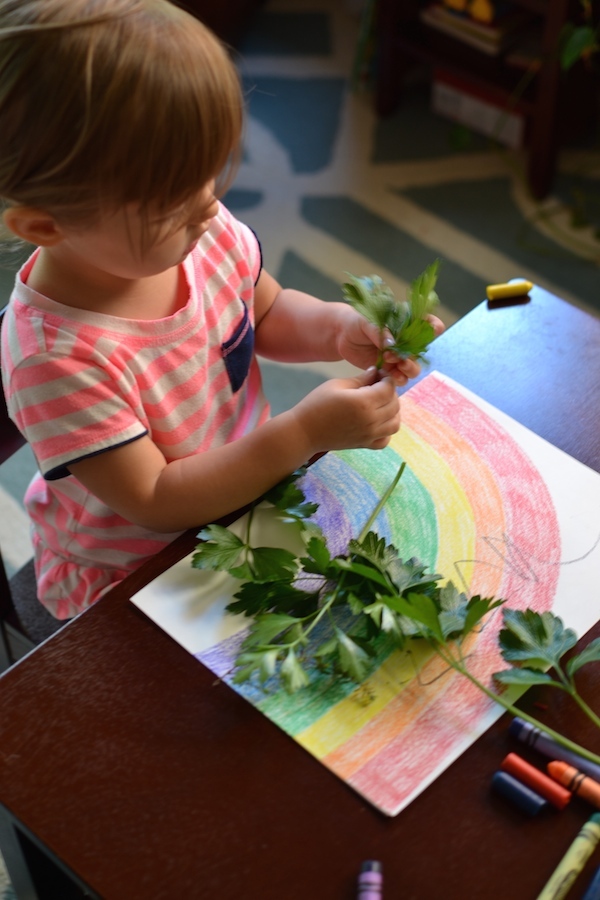 For younger children: Before preparing your recipe, break out your crayons or markers and help your child draw a giant rainbow on a sheet of paper.  As you start preparing your recipe, talk about "eating a rainbow" and the colors you see in this recipe.  Your child can either draw or write (dictate) the names of the different vegetables and herbs on each color in his rainbow drawing.  Yellow corn; green peas, beans, celery, thyme and parsley; orange carrots; and white onions can all be added to the rainbow.  What other fruits or vegetables can you think of?  Keep your rainbow hanging on your fridge and encourage your child to add to the rainbow each time you make a new recipe.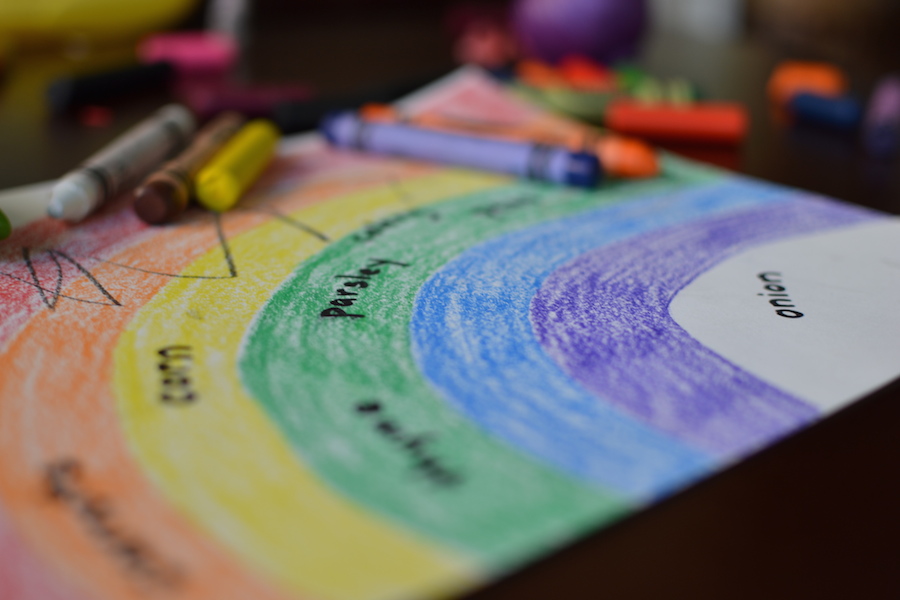 For older children: Talk to them about the idea of "eating a rainbow" and how different colored fruits and vegetables are what we need to aim to eat each day.  Propose this challenge: count how many different colors you eat today and then try to one-up your total tomorrow!  This recipe boasts four colors as is, but maybe you could add purple potatoes or red bell peppers?!  Challenge them to come up with ways to add colors to the recipes you make together.
For more information and fun activities related to "Eating a Rainbow", visit https://www.wholekidsfoundation.org OR http://www.todayiatearainbow.com
Disclaimer: As with all of our recipes, my suggestions for how kids can help with a particular recipe are based on what has worked in our kitchen.  Your child may be able to help more or less based on their age and/or ability. As always, make sure you are properly supervising kids in the kitchen.