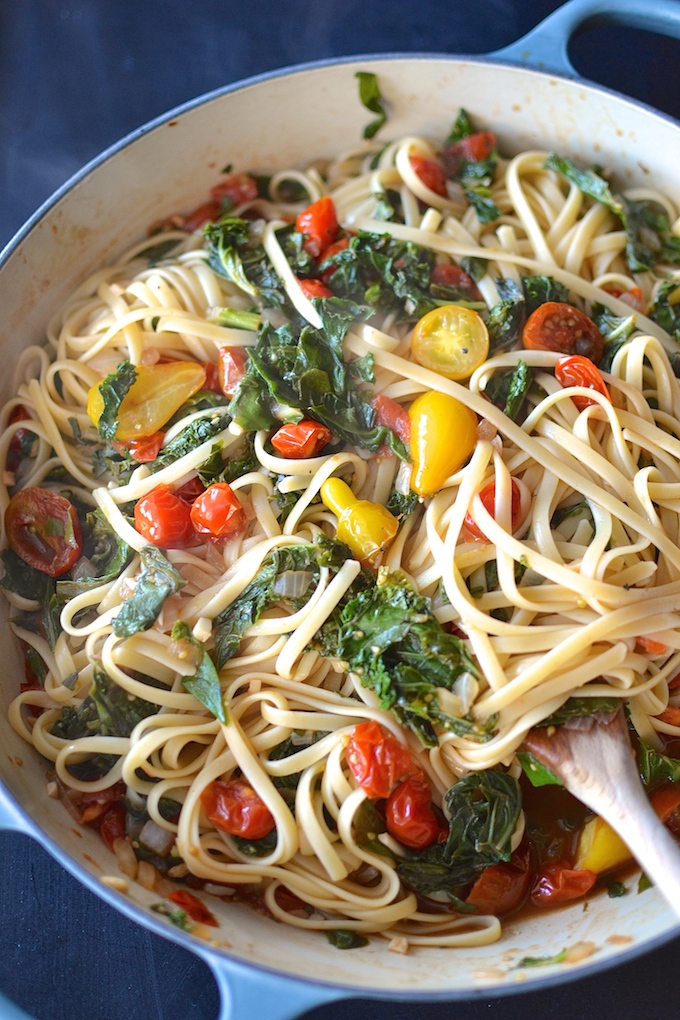 As we approach the first day of October (already?!), I look out my window and still see hundreds of little cherry tomatoes growing in my backyard garden.  I don't know if it was the hot, humid summer weather, or my lack of watering regularly, but somehow our tomatoes got a late start this year.
So here we are nearing October and I still have hundreds of those little gems still hanging on.
What to do with them?!  PASTA, of course. Pasta with Greens and Balsamic Tomatoes.
This quick weeknight pasta dish takes advantage of those late summer tomatoes, as well as fall's bounty of beautiful greens. I particularly like swiss chard in this dish, but baby spinach would be a great alternative.
Speaking of greens, we're using A LOT for this dish.  But this giant pan full of tomatoes and greens will wilt down…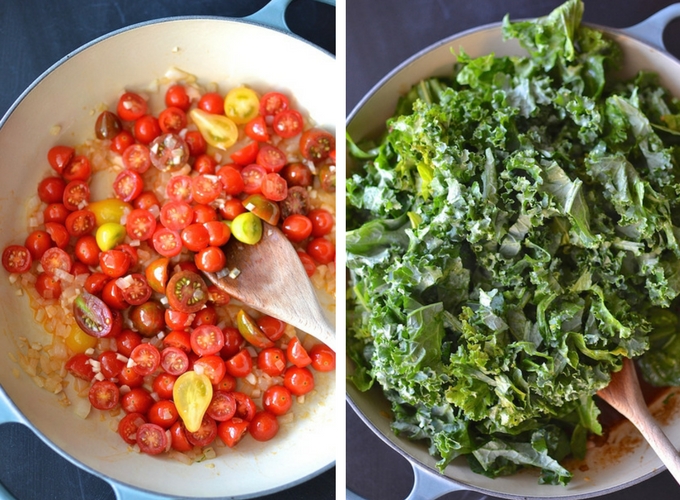 …into this.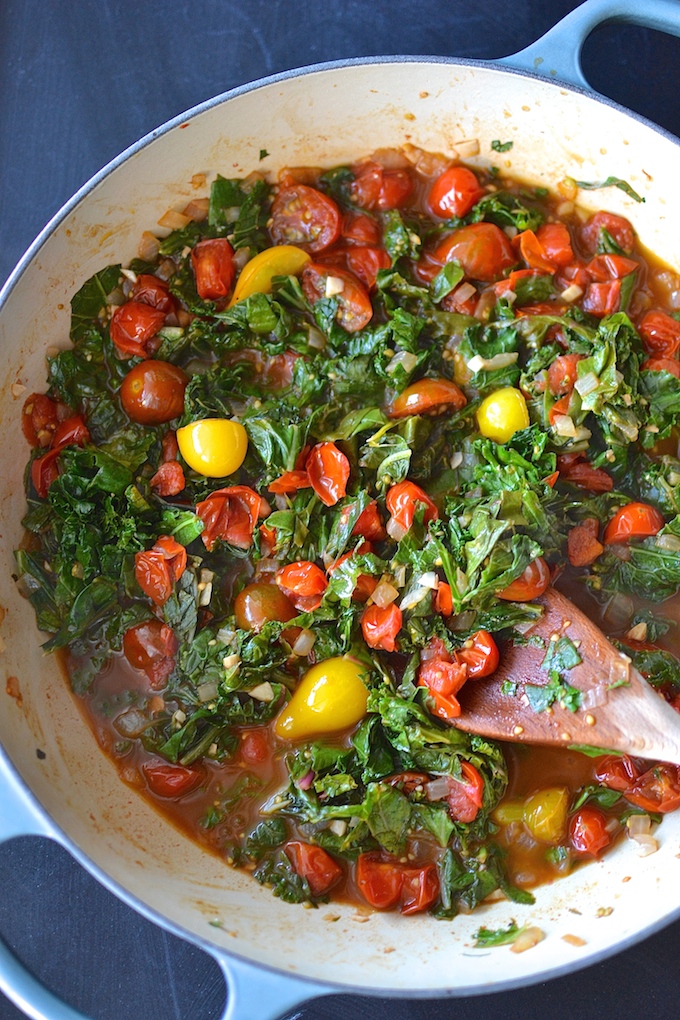 Toss with some hot pasta, parmesan cheese and a few chopped kalamata olives (for those of us olive lovers), and dinner is ready. The olives really put this dish over the top for me, so if you're a fan, I strongly recommend a handful for your pasta.
I know this seems like a parents-only kind of dinner, but truth be told, Em liked this pasta a lot. If I'm being honest, she DID pick out the greens and tomato pieces, but I like to think that even by eating just the noodles, she got the essence (and nutrients) of those other yummy ingredients.

Little Hands Can…
Pull the greens off the stems and tear into small pieces
Carefully toss the tomatoes, greens, vinegar and broth into the pan
Toss the pasta with parmesan cheese and the greens/tomatoes using tongs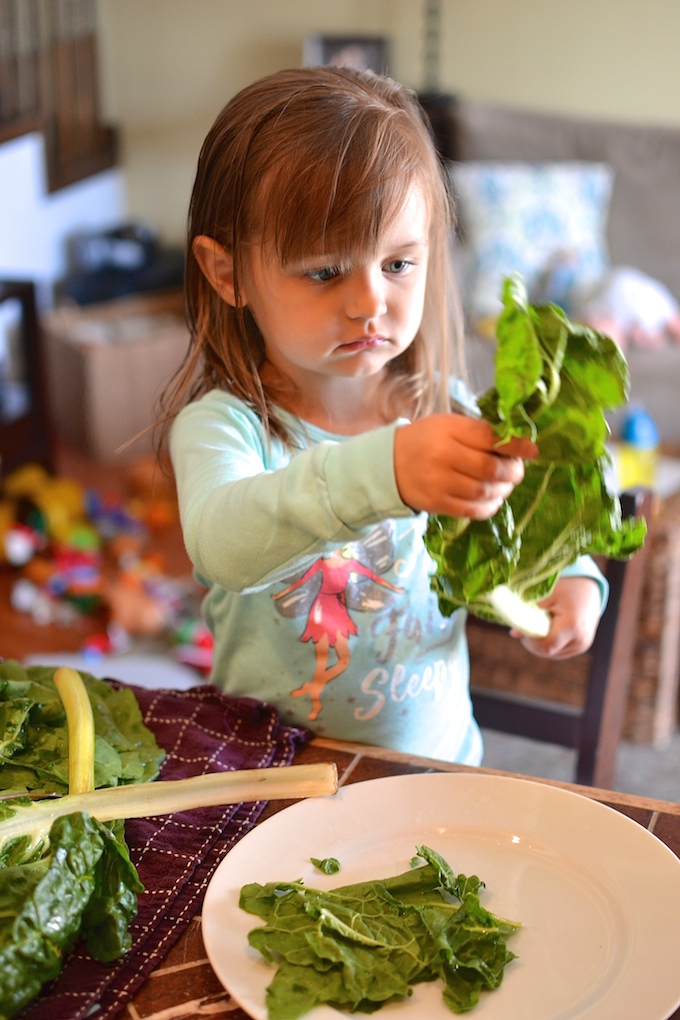 Pasta with Greens and Balsamic Tomatoes
Author:
Sally at Sweet Peas and ABCs
Ingredients
2 tablespoons olive oil
½ of a sweet or yellow onion
3 garlic cloves
2 cups cherry or grape tomatoes, any color
2 tablespoons balsamic vinegar
4 cups swiss chard, from about one small bunch (baby spinach would also work well)
¼ cup vegetable broth (or chicken broth)
salt and pepper
1 pound long pasta, such as linguine
½ cup parmesan cheese, plus more for serving
¼ cup kalamata olives, for serving
Instructions
Prepare your vegetables. Dice the ½ onion and mince the garlic cloves. Halve the tomatoes. Tear or chop the greens (chard or spinach) into small pieces.
In a large saute pan or skillet (you'll want one that's big enough to toss all of the sauce and pasta), heat the olive oil over medium heat. When the oil is hot, add the onions and sauté for about 5 minutes, until they are translucent. Add the minced garlic and sauté 1 minute, until fragrant.
Add the halved tomatoes and stir to combine. Deglaze the pan with the 2 tablespoons of balsamic vinegar and stir, scraping up any bits from the bottom of the pan. Add the chopped greens and stir so the greens start to wilt. Add ¼ cup broth and let the ingredients simmer and wilt for about 5 minutes, stirring occasionally. Taste and season with salt and pepper.
While the tomatoes and greens are simmering, cook the pasta according to package directions. Make sure you salt the pasta water well before adding the dried pasta. This sauce is light, so you need to season the pasta well. Reserve ½ cup pasta water before draining the pasta.
Toss the hot, cooked pasta with ½ cup parmesan cheese. Add the wilted greens and tomatoes and stir to combine. Add pasta water, a few tablespoons at a time, to moisten the pasta if it needs it.
Serve with more parmesan cheese and chopped kalamata olives (for another salty kick!)
Recipe inspired by 
Giada's Whole-Wheat Spaghetti with Swiss Chard and Pecorino 
Disclaimer: As with all of our recipes, my suggestions for how kids can help with a particular recipe are based on what has worked in our kitchen.  Your child may be able to help more or less based on their age and/or ability. As always, make sure you are properly supervising kids in the kitchen.