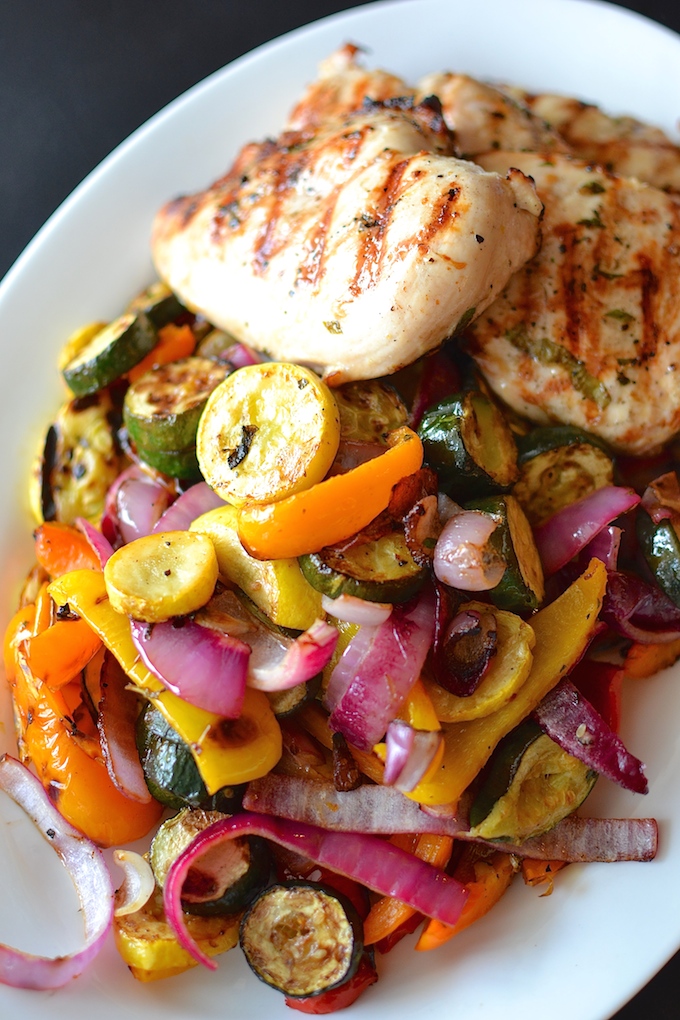 Spring has FINALLY sprung! It's mid-May are we are finally in the midst of warm, sunny 70-degree days … and we could not be more excited. With the official start of grilling season just around the corner, I had to share this Summertime Mixed Grill with Lemony Orzo … our all-time-favorite, go-to dinner for this time of year, and really, all summer long.
Whenever we're having people over, whether for a party (we have a TON of summer family birthdays) or just an evening dinner on the back deck with friends, we're usually making one of two things: my husband's famous brats, or this Summertime Mixed Grill with Lemony Orzo.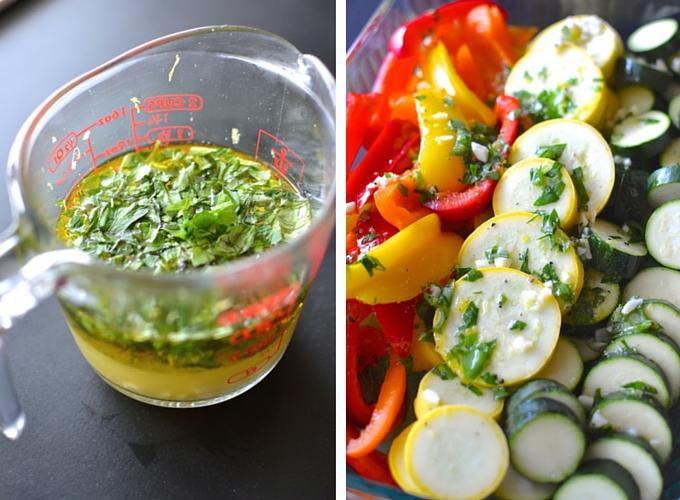 The beauty of this grilled feast, other than the obviously beautiful colors, is that you can prep everything ahead of time, leaving you free to entertain guests, play with your kids or just enjoy the warm summer evening.  Toss your chicken and vegetables in a super-quick lemony-garlic-herb marinade and let it sit for awhile in the fridge. When you're ready to eat, fire up the grill, and boil the water for your orzo. The leftover marinade from your vegetables becomes the flavor for your orzo. E.A.S.Y.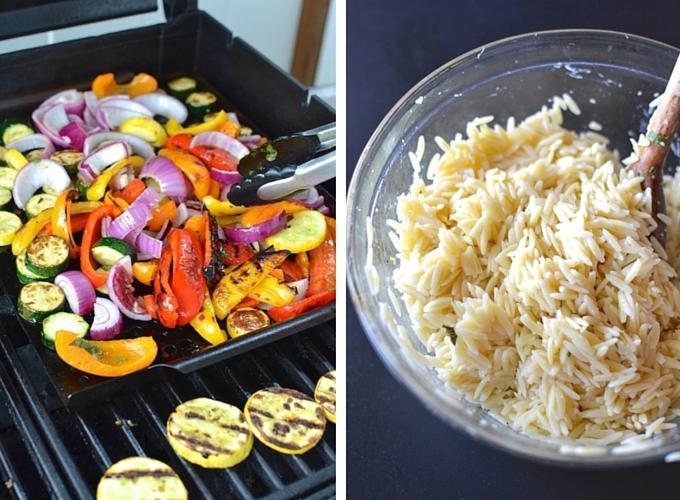 Another thing I love about this meal is it's versatility. You can completely make this your own depending on what your family and friends like to grill and eat…
Make it completely vegetarian by omitting the chicken and adding some mushrooms and eggplant to the grill
Add shrimp to the mix for seafood-lovers
Add steak and baby red potatoes to the grill for the meat-and-potato-lover in your life
Double or even triple the recipe for large summer parties
Substitute different herbs that you like (cilantro or mint might be great!)
Try using lime or orange juice instead of lemon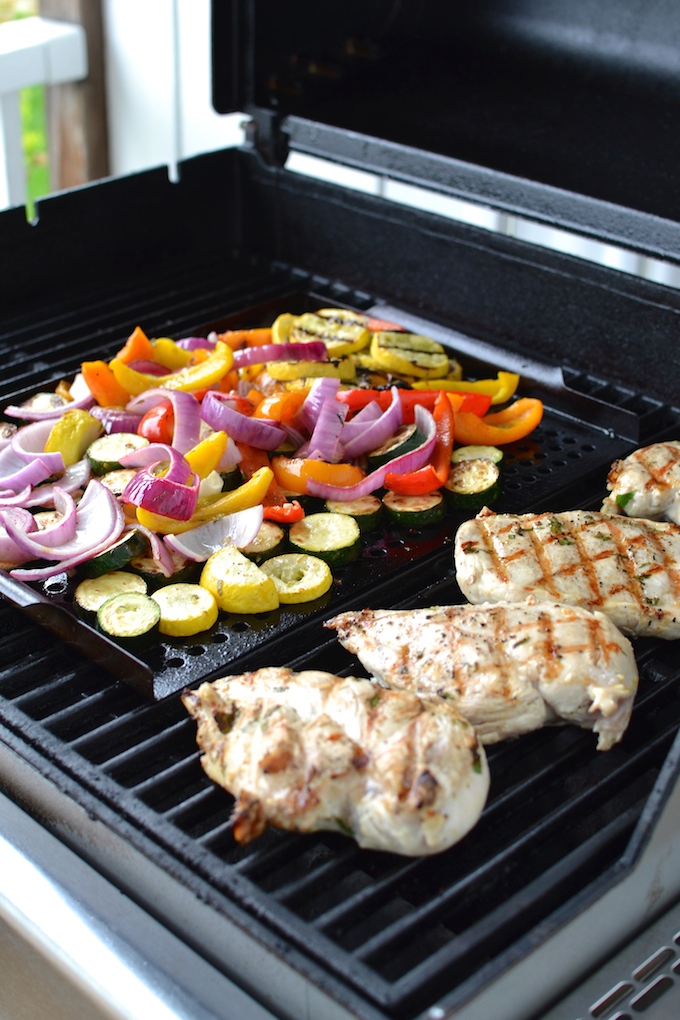 Dish up a big bowl of lemony orzo, top it with all sorts of delicious grilled meat and vegetables, and enjoy. Fresh, healthy, light, and oh-so-summery. Any way you like it, grilling season is HERE … and we're ready.
Little Hands Can…
Juice the lemons
Wash and tear the leaves off of the parsley and basil
Measure and whisk the ingredients for the marinade
Wash the vegetables (older kids can also help slice the vegetables, with supervision)
Toss the cooked orzo with the marinade and parmesan cheese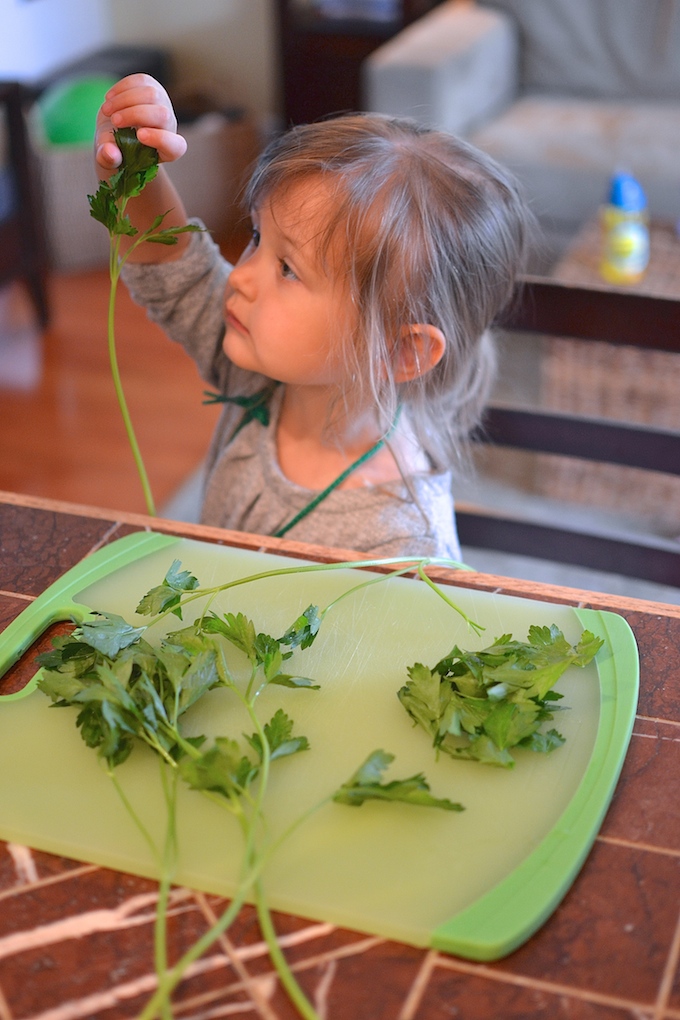 Summertime Mixed Grill with Lemony Orzo
Author:
Sally at Sweet Peas and ABCs
Serves:
Serves 4-6 people
Ingredients
Marinade
Zest of 1 lemon
⅔ cup lemon juice (from about 4 lemons)
⅔ cup extra virgin olive oil
4 cloves garlic, minced
1 teaspoon salt
1 teaspoon black pepper
¼ cup chopped flat-leaf parsley
¼ cup chopped basil
Mixed Grill and Orzo
4 chicken breasts (or chicken thighs, if you prefer)
3 bell peppers (any color will work, but I like to use a rainbow of colors)
2 zucchini
2 yellow squash
1 red onion
1 (1-pound) box orzo pasta (whole wheat or regular)
½ cup freshly grated parmesan cheese
Instructions
Marinade
In a medium bowl or large glass measuring cup, combine the lemon zest, lemon juice, olive oil, minced garlic, salt, pepper, chopped parsley and chopped basil. Whisk vigorously until the marinade is thoroughly combined. Set aside. You should have about 1½ cups of marinade.
Mixed Grill and Orzo
Place the chicken in a large glass bowl, baking dish or large storage bag. Add ½ cup of the marinade to chicken. Flip the chicken around with a pair of tongs to coat it with the marinade. Cover and let it marinate in the fridge for at least an hour, or up to 3 hours.
Prepare your vegetables by slicing the bell peppers into long strips. Slice the zucchini and yellow squash into ½ inch rounds. Place all of the sliced vegetables into a large glass bowl, baking dish or large storage bag. Add the remaining marinade (about 1 cup) to the vegetables and toss to coat. Cover and let them marinate in the fridge for at least an hour, or up to 3 hours.
Cut the red onion in half and then cut it into ½ inch slices. Store separately from the other vegetables until ready to grill. I don't typically marinate the onions with the other vegetables, or else everything ends up smelling like onion.
Preheat the grill to medium-high. Using tongs, place the peppers, zucchini and squash on the hot grill (we usually use a grill basket for our vegetables) and reserve the vegetable marinade. Toss the sliced onions in the marinade and place them on the grill too. Grill all the veggies until they're softened and cooked through, about 10-15 minutes, flipping them as they start to get grill marks. Once cooked through with good color, transfer the cooked vegetables to a serving platter.
Grill the marinated chicken breasts until cooked through, about 7-8 minutes per side (to an internal temperature of 165 degrees). Discard the marinade that was used for the chicken. Once fully cooked, let the chicken rest for 5 minutes before thinly slicing. Add the sliced chicken to the serving platter next to the vegetables.
Meanwhile, boil the water for your orzo and cook it according to package directions. Drain the orzo and spoon it into a large bowl. Add the reserved marinade from the vegetables and toss. Add ½ cup freshly grated parmesan cheese and stir to combine everything. Season to taste with salt and pepper. Serve alongside the grilled meat and vegetables.
Notes
Orzo is pasta that is shaped liked rice. You should be able to find it in the pasta aisle of your regular grocery store. If you can't find it, you could substitute another small pasta, such as ditalini, or even rice.

You could also marinate and grill shrimp, steak, etc., in addition to, or instead of chicken.
Recipe adapted from one of my favorites,
Giada de Laurentiis
On the Side
The different colors and variety of vegetables in this recipe call for some play with patterns!  With this recipe, we're using our sliced vegetables to learn about and build simple and complex patterns. More about this pattern activity coming soon!
Disclaimer: As with all of our recipes, my suggestions for how kids can help with a particular recipe are based on what has worked in our kitchen.  Your child may be able to help more or less based on their age and/or ability. As always, make sure you are properly supervising kids in the kitchen.