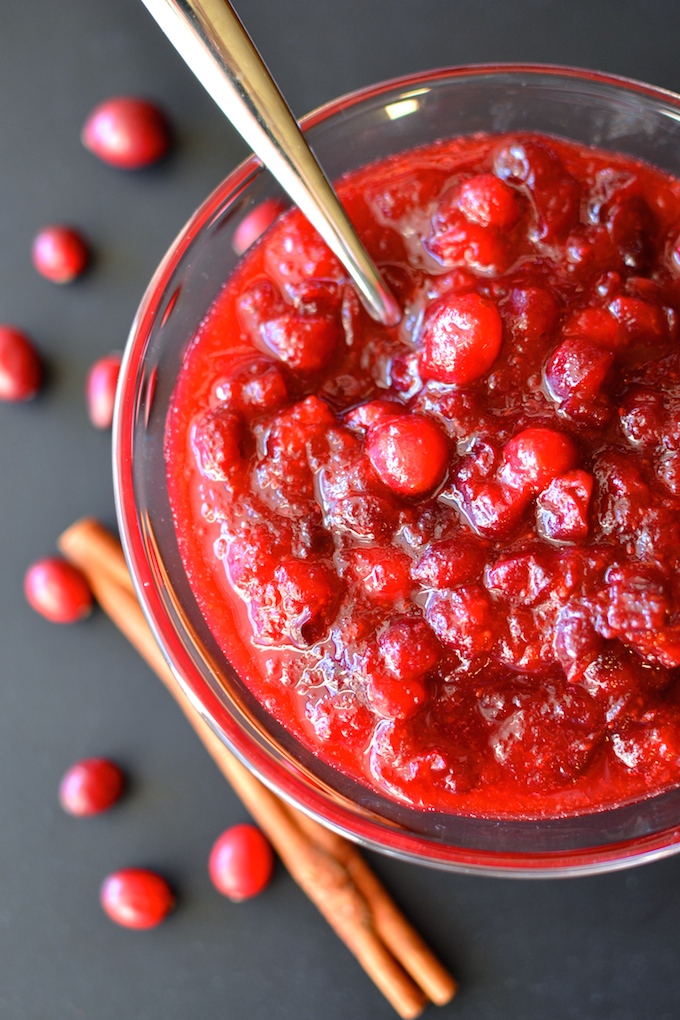 In keeping with classic side dishes for the big day, I give you this EASY whole-berry Sweet Citrus Cranberry Sauce.  Probably my favorite side on the turkey-day table.  That's a pretty bold statement for a side dish that is typically an afterthought.  This year, make it a beforethought.
I know, I know…it seems easier to resort to the canned stuff.
Please, please, please don't resort to the canned stuff.  There's just no comparison.  This whole-berry cranberry sauce is not only fresh and delicious, it is JUST AS EASY as the canned stuff (but 100 times better).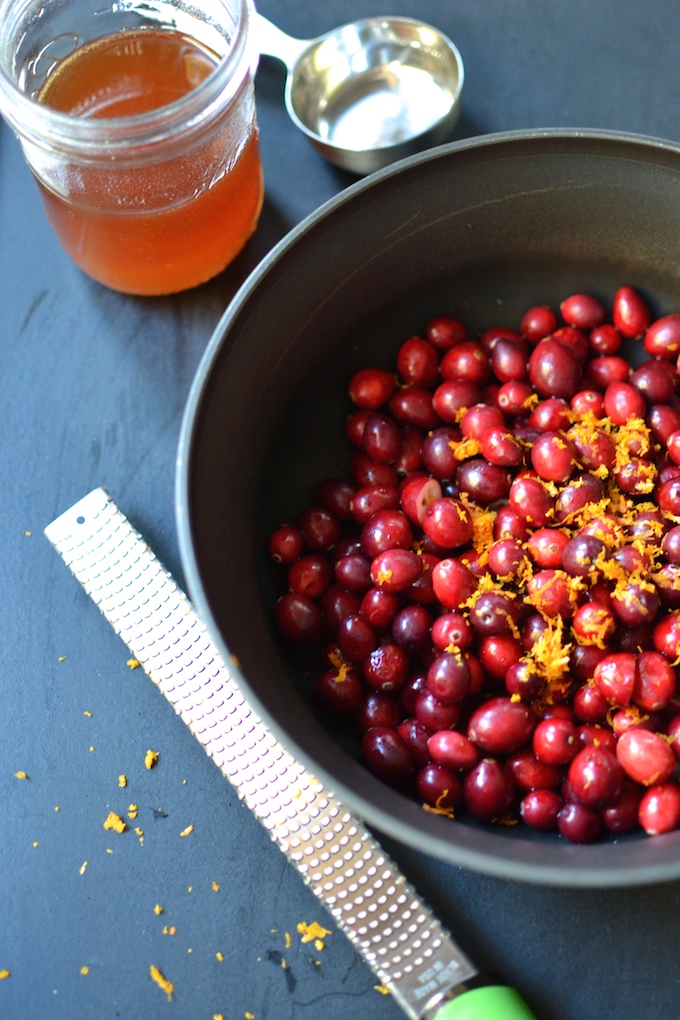 It's sweet, from the honey, brown sugar (just a little) and apple cider.
It's tart, from the cranberries, zest and orange juice.
It's even a little spicy, from the simmering cinnamon stick.
It's SO good.  It even smells good. Just this past weekend, as I was simmering another pot of these ruby-colored gems, Em came down from her nap and said, "Smells like cranberry sauce in here!" Did she just say that?  Yep.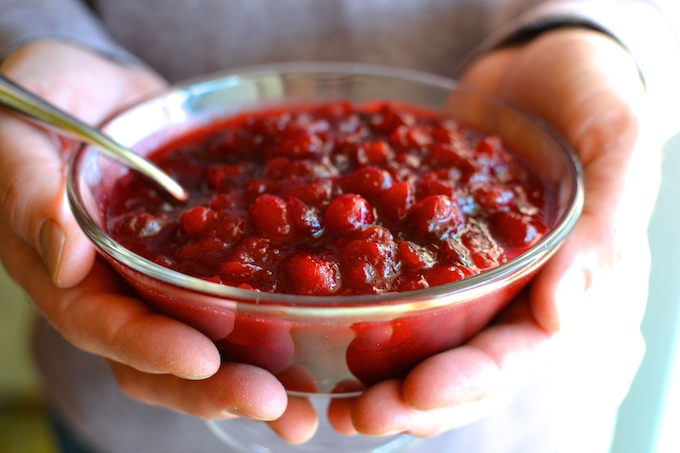 I think even those who usually pass on the sauce will like this sauce (who are you people?…ahem…my husband…who I think just takes the sauce so he doesn't hurt my feelings).  I don't mind…more for me.
Little Hands Can…
Wash the cranberries and pick out any that look rotten or squished
Older kids can zest the orange
Squeeze the orange juice into a measuring cup
Measure the cider, honey and brown sugar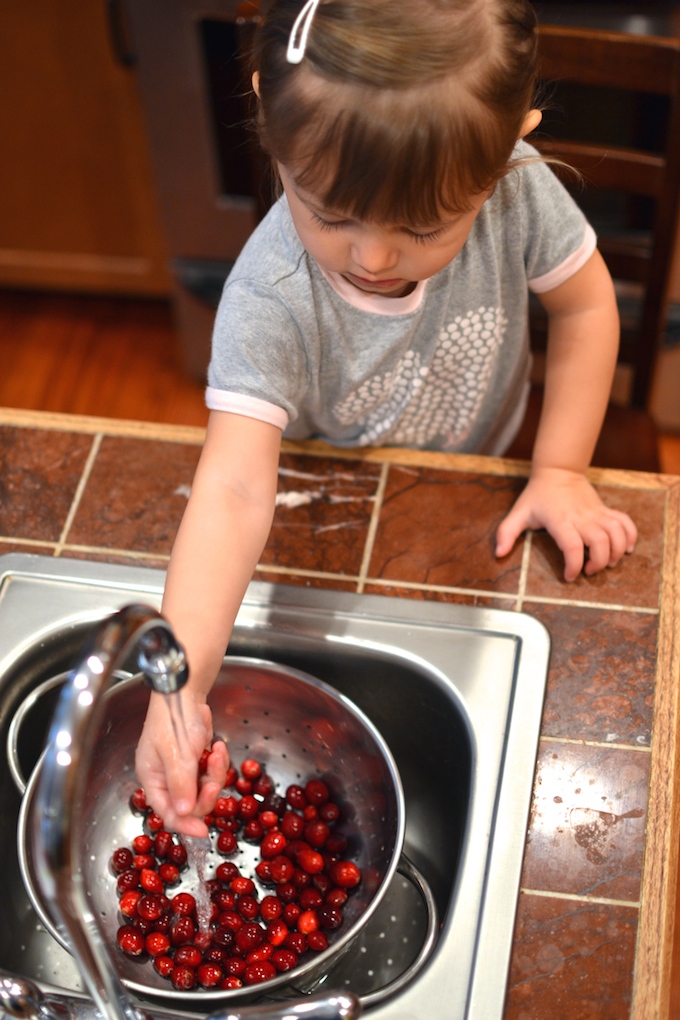 Sweet Citrus Cranberry Sauce
Ingredients
1 (12 ounce) bag (about 3 cups) washed cranberries (picked over for rotten or squished cranberries)
zest and juice of 1 orange
¾ cup apple cider
1 cinnamon stick
¼ cup honey
¼ cup brown sugar
Instructions
Pour washed cranberries into a medium-sized pot.
Add the zest of the orange.
Squeeze the orange juice into a measuring cup and then fill the measuring cup to the 1 cup mark with apple cider. You may need more or less than ¾ cup of apple cider depending on the juiciness of your orange.
Pour the orange juice/apple cider into the pot. Add the cinnamon stick, honey and brown sugar.
Bring the cranberry mixture to a low boil over medium heat. You'll hear the cranberries popping. Turn the stove down to low and let the sauce simmer for 10-15 minutes, stirring occasionally.
Turn the stove off and let the sauce cool completely before serving. The sauce will continue to thicken as it cools.
Store in a covered container in the fridge for up to 10 days. You can also freeze the leftovers.
Notes
If you don't have a cinnamon stick, you can substitute ¼ teaspoon ground cinnamon.
On the Side
Need a fun activity for the kiddos while you finish cooking your holiday meal?  With our recipe ingredients, we're conducting a fun science experiment: sink or float?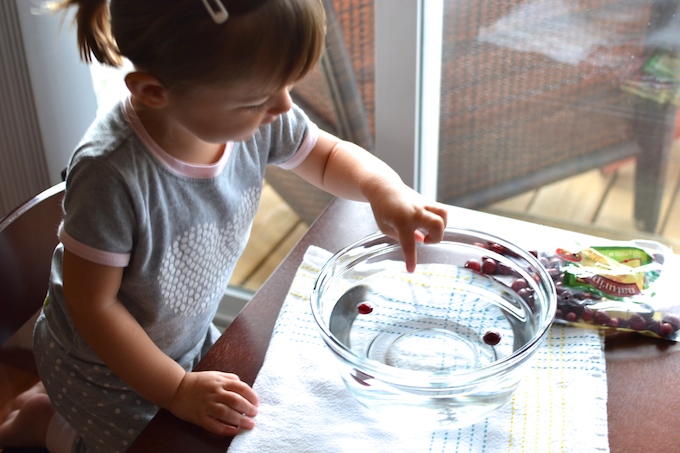 Before beginning, talk about what it means when something "floats" or "sinks".  When something floats, it rests or stays on top of a liquid, like water.  When something sinks, it falls into the liquid and goes below or to the bottom.
In this experiment, kids can test whether each of the recipe ingredients will sink or float in a bowl of water.  You'll need:
a large bowl, filled 3/4 full with water (preferably a glass bowl so you can see the ingredients)
ingredients to test: fresh cranberries, cinnamon stick, orange (any other things your kids would like to try!)
towels for clean up
Before testing each of the ingredients, ask your child to make a HYPOTHESIS about whether each object will float or sink.  (Yes, you should even use that word!).  A hypothesis is "an educated guess."  Think about the size, weight, and anything else you know about these ingredients before making your guess.  Does the weight of the object matter? Does the shape of the object matter?  Does the size of the object matter?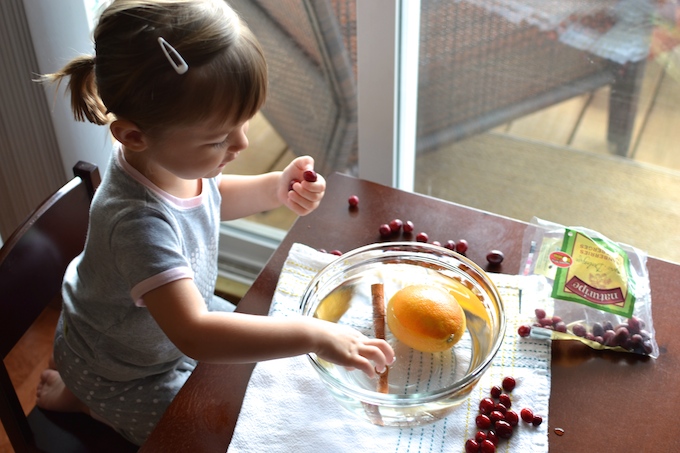 Then, place each ingredient (gently) in the water.  Did the object sink or float?  Was your hypothesis correct or incorrect?
Why do you think cranberries float?  Here's a clue: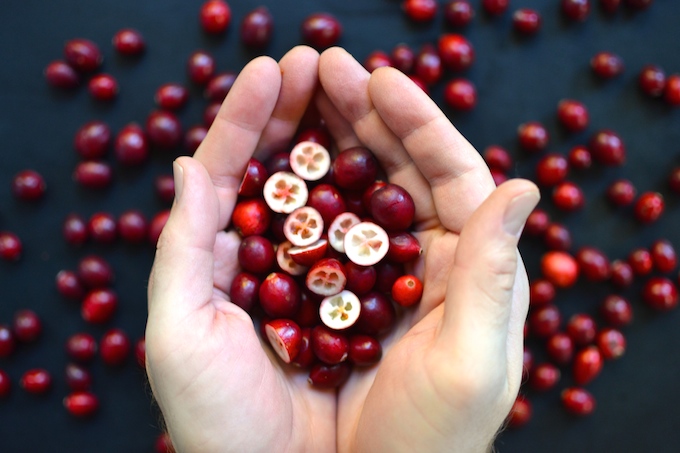 Hmmm….
Disclaimer: As with all of our recipes, my suggestions for how kids can help with a particular recipe are based on what has worked in our kitchen.  Your child may be able to help more or less based on their age and/or ability.