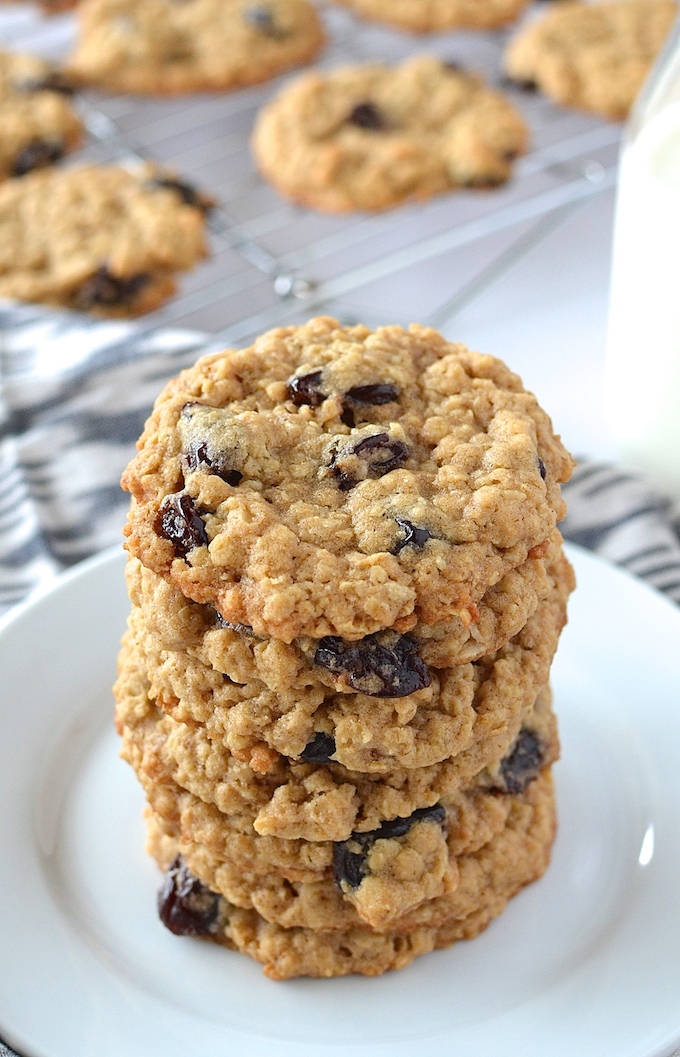 Cherry Oatmeal Cookies…otherwise known as "Wedding Cookies" in our house.
Let me explain…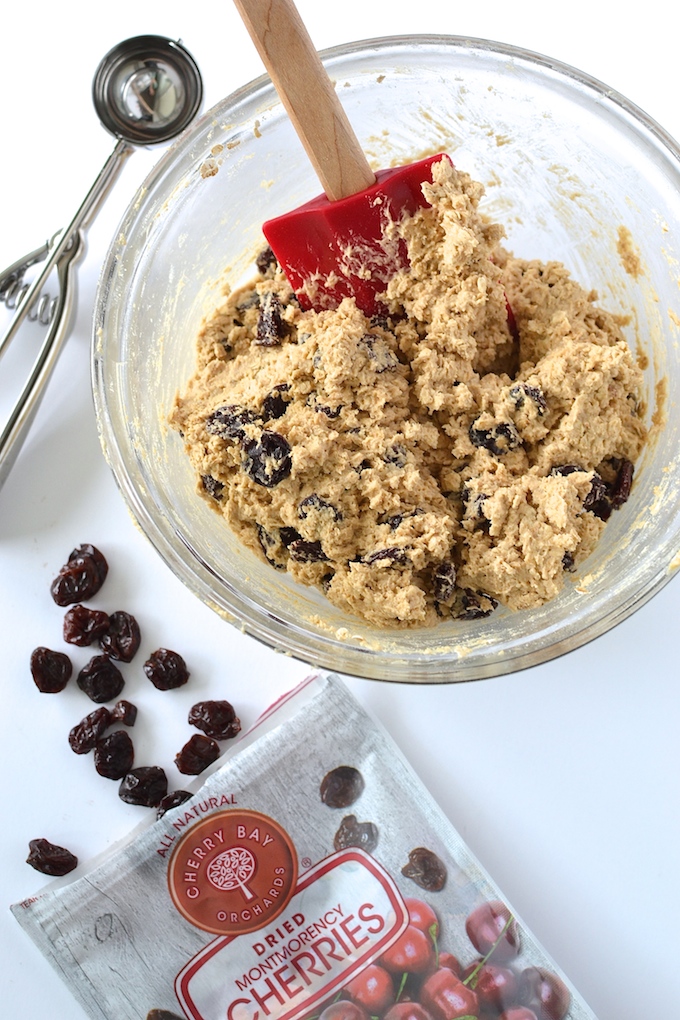 Back in June (when I originally intended to post this recipe before the not-so-fun first trimester), my husband and I celebrated our 5th wedding anniversary! Five years went just as quickly as those three years that little Em has been around.
We were married in Door County, Wisconsin at Woodwalk Gallery, an old barn-turned beautiful art gallery, on a perfectly summery June day. Door County is a short drive from Green Bay, my husband's hometown, and when he took me for a weekend visit one spring, I immediately fell in love. I mean, really, it's straight out of a magazine.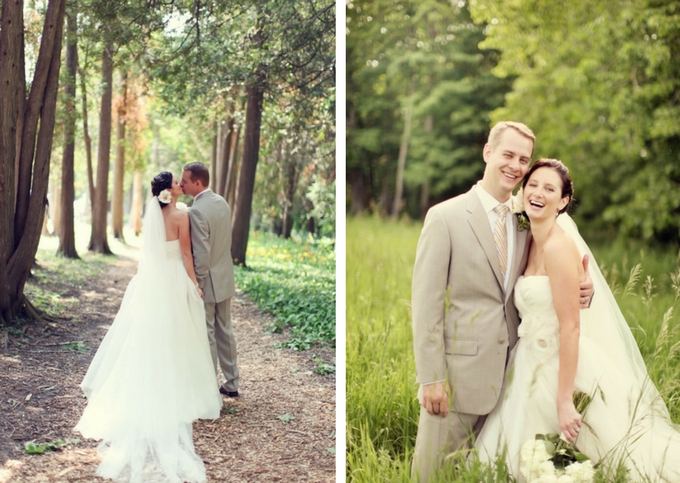 A collection of quaint, picturesque towns along the "thumb" of Wisconsin, some people call it the "Cape Cod of the Midwest." It also just so happens to be one of the largest producers of cherries in the country and produces all sorts of wonderful cherry products, from jams and pies to coffee and wine. So when we decided to get married there, I knew I had to include this Door County staple in my plans to bake something for our wedding guests.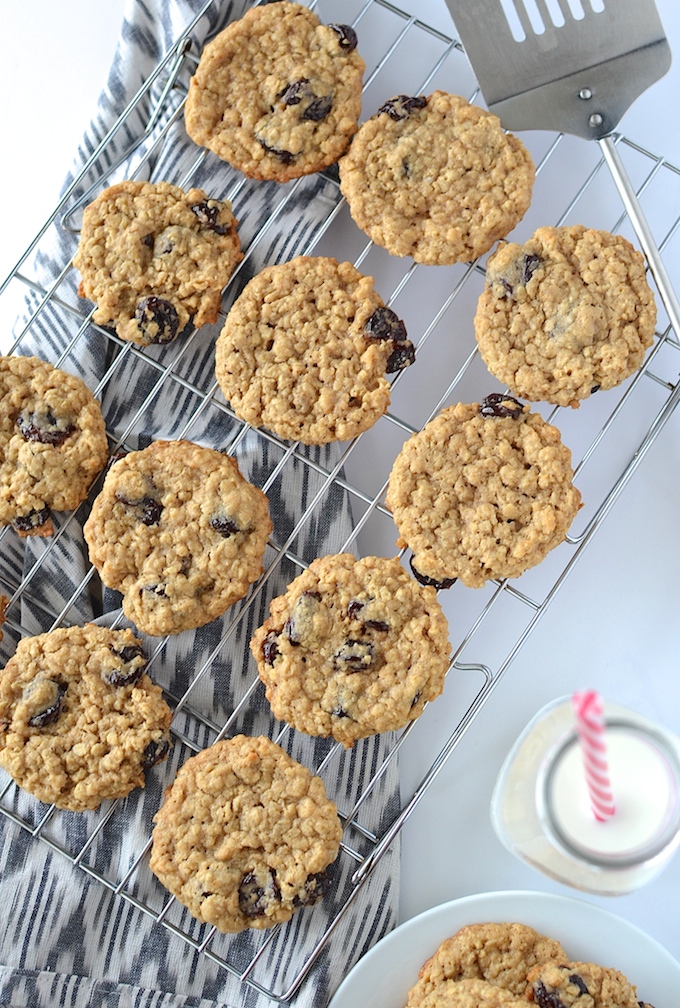 Fast forward to the Monday before our wedding…my mom and I are in my kitchen in Chicago baking and packaging twenty dozen of these bad boys for our hotel guest bags. Stressful? Yes.  Worth it? For sure. Everybody loved the cookies and I loved giving a personalized homemade treat to our guests to thank them for coming.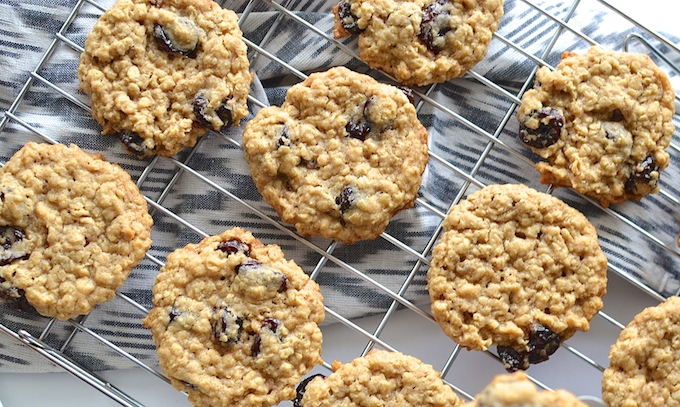 Five years later, I've turned the original recipe (from the wonderful Barefoot Contessa) into an egg-free version so Em can eat them as well. I'm partial to using dried cherries in these cookies, but you can certainly substitute raisins or dried cranberries if you prefer.  Mini chocolate chips are also fantastic. And both cherries and chocolate chips together are even better! We left out any nuts (because my husband is a nut about nuts in things!) but if you're a fan, try adding toasted pecans or walnuts.

Little Hands Can…
Measure all wet and dry ingredients
Stir in oats and dried cherries
Scoop cookie dough onto a baking sheet
Flatten the dough slightly with their hands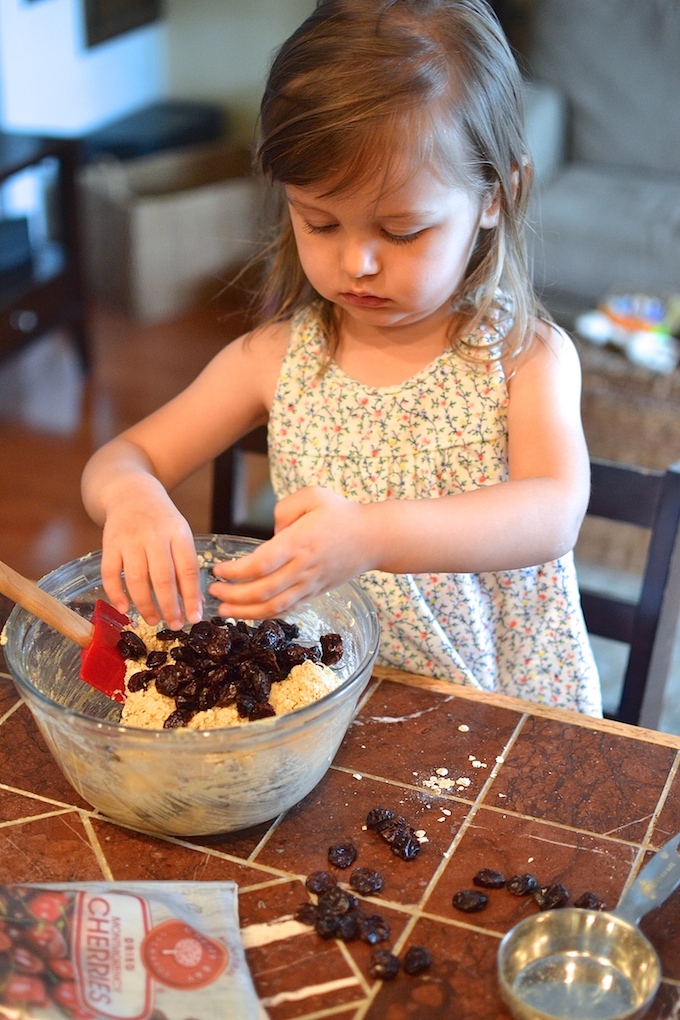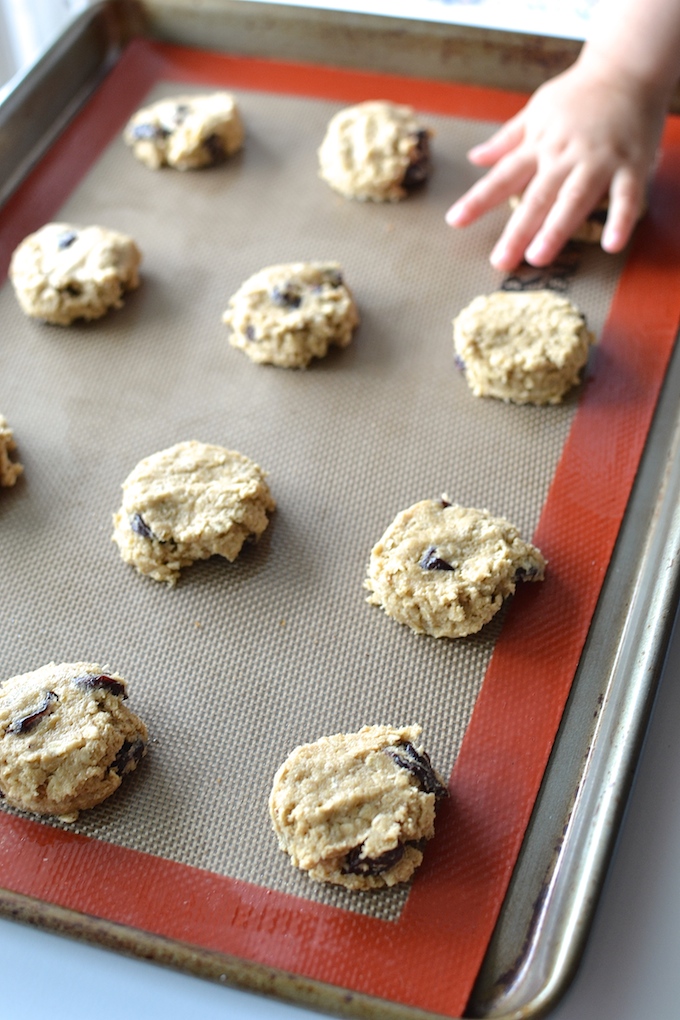 Cherry Oatmeal Cookies
Author:
Sally at Sweet Peas and ABCs
Ingredients
¾ cup all-purpose flour
½ teaspoon baking powder
⅜ teaspoon baking soda
½ teaspoon salt
½ teaspoon ground cinnamon
1 stick unsalted butter, room temperature
½ cup dark brown sugar, packed
½ cup granulated sugar
¼ cup plain whole-milk greek yogurt
1 teaspoon pure vanilla extract
1½ cups quick-cooking oats
1 cup dried cherries (or raisins, dried cranberries, mini chocolate chips, etc.)
Instructions
Prepare a baking sheet with parchment paper or a silpat baking liner.
In a medium bowl, whisk together the flour, baking powder, baking soda, salt and cinnamon. Set aside.
In a stand mixer or in a large bowl using a hand mixer, beat the butter, brown sugar and granulated sugar until light and fluffy, about 2 minutes. Add in the yogurt and vanilla and beat until combined. Slowly add in the flour mixture, incorporating fully after each addition.
Using a large spatula, fold in the oats and dried cherries until fully combined. Refrigerate the dough for 15 minutes before scooping and baking. Preheat your oven to 350 degrees while the dough is in the refrigerator.
Using a small cookie scoop or a tablespoon, scoop your cookie dough onto your prepared baking sheet. Use your hand to flatten each cookie slightly. The cookies don't spread too much, so you'll be able to easily fit a dozen on your standard baking sheet. Bake in a 350 degree oven for 11-12 minutes for softer cookies and up to 14 minutes for crunchier cookies. Let the cookies cool for 5 minutes on the baking sheet before transferring to a cooling rack to cool completely. Store in an airtight container for up to 5 days, or freeze in a freezer bag for up to one month.
Recipe adapted from Ina Garten's Raisin Pecan Oatmeal Cookies to be egg-free.
On the Side
The tart, chewy cherries in our cookies are the inspiration behind our next letter/sound exploration.  With this recipe, we're learning about our first digraph… "ch"… using chewy cherries, and maybe a few other sweet "ch" treats. Activity coming soon!
Disclaimer: As with all of our recipes, my suggestions for how kids can help with a particular recipe are based on what has worked in our kitchen.  Your child may be able to help more or less based on their age and/or ability. As always, make sure you are properly supervising kids in the kitchen.