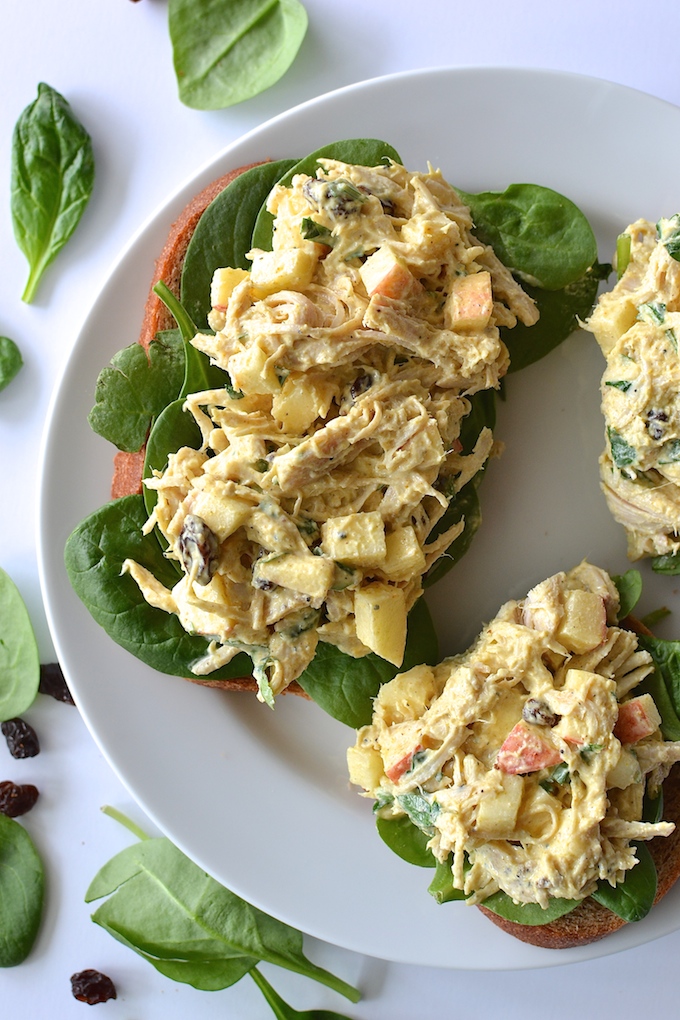 We're entering those warmer spring-turned-quickly-into-summer days when almost nothing sounds good to eat for lunch.  It's just too hot! I want something quick and easy that can just sit in my fridge and be ready for when I'm ready for lunch.  I flat-out adore curry and this Curry Chicken Salad has been my go-to lunch this spring.
Two reasons: FLAVOR and TEXTURE. It's mildly spicy AND sweet, in a way that only curry can be. Don't be worried if you're not a huge curry fan … the 3-ingredient (no mayo!) dressing is pretty mild, yet has just enough of a flavor to make you wonder what tastes so good.
And as you know, I'm all about the textures, so the combination of crunchy apples, chewy raisins, fresh spinach and creamy dressing in this salad is spot on.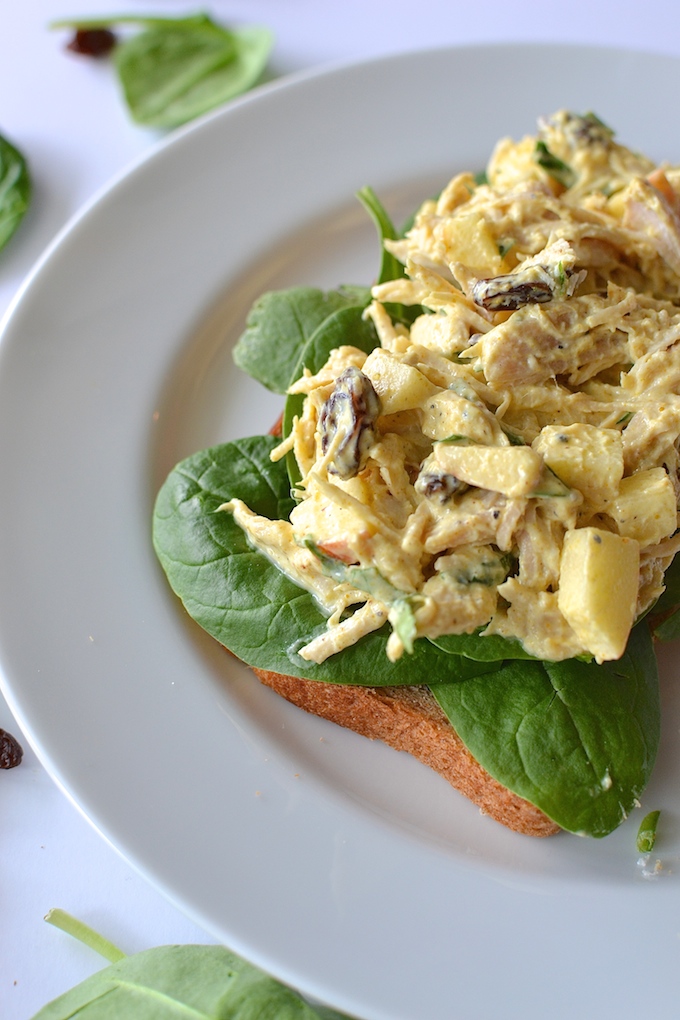 I'm a big fan of open-face sandwiches, I'm not quite sure why, but that is how I often prepare this Curry Chicken Salad for myself.  Other fantastic ways to eat it?
Spread it on a regular bread-on-top-and-bottom sandwich; I like whole wheat or even sourdough would be good
Roll it in a wrap or tortilla. You could even cut it into bites and make some extra yogurt sauce to use as a dip (this is my second favorite way to eat this!)
Stuff it in a pita with loads of fresh spinach
Skip the bread altogether and just eat it over a bed of spinach
Stir the baby spinach right into the chicken salad and use it as a dip for pita wedges or whole grain crackers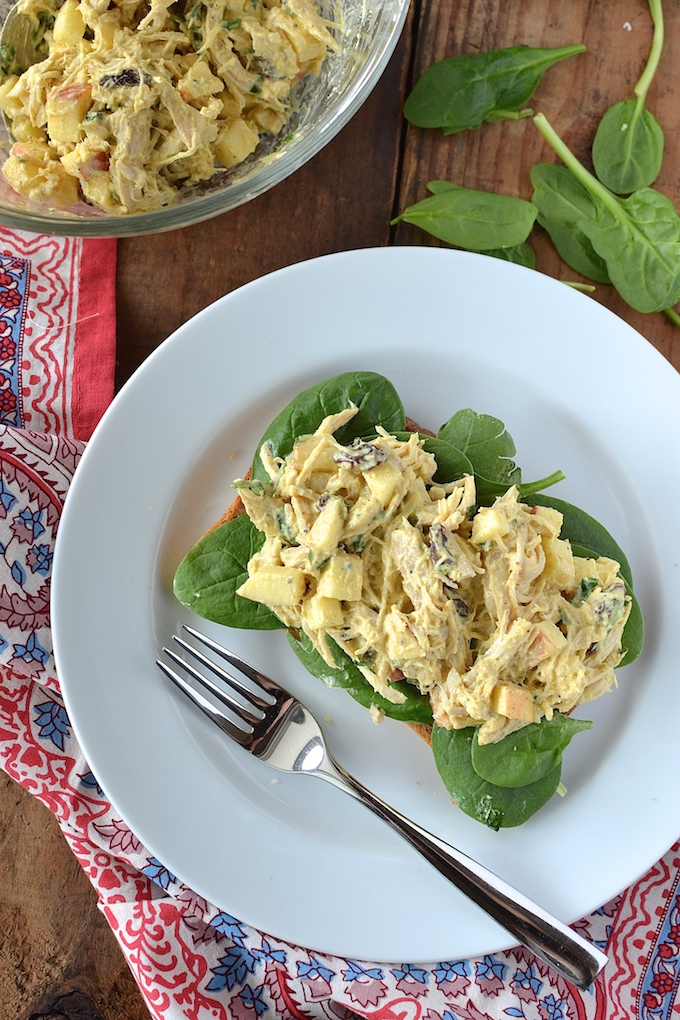 Last week, I packed up some Curry Chicken Salad sandwiches for a weekday trip to the Chicago Botanic Garden with Em and my mom (an amazing place to roam around for the day, if you've never been!).  Come lunchtime, the first words out of my mom's mouth were, "Oh my gosh, that's good!"
Really, it is.  Really, really good. Use up your leftover chicken from dinner, grab a rotisserie chicken from the store, or use some Slow Cooker Shredded Chicken from your freezer stash and MAKE THIS.
Little Hands Can…
Measure and stir together the yogurt, honey, curry powder, salt and pepper
Shred the cooked and cooled chicken
Add the chopped apples, chicken and raisins to the bowl
Build their sandwich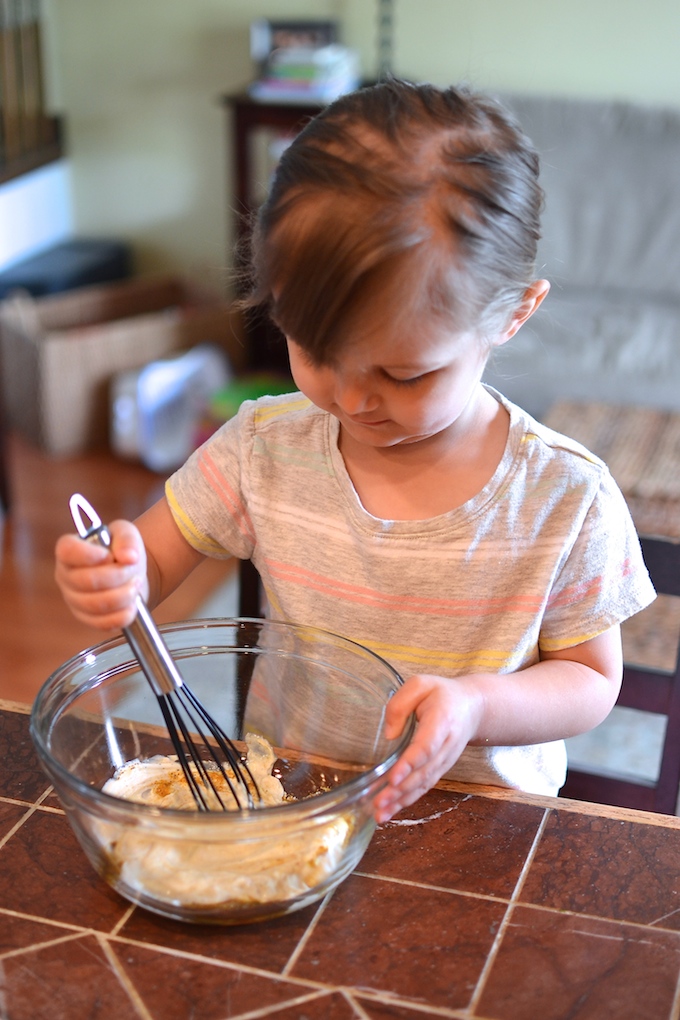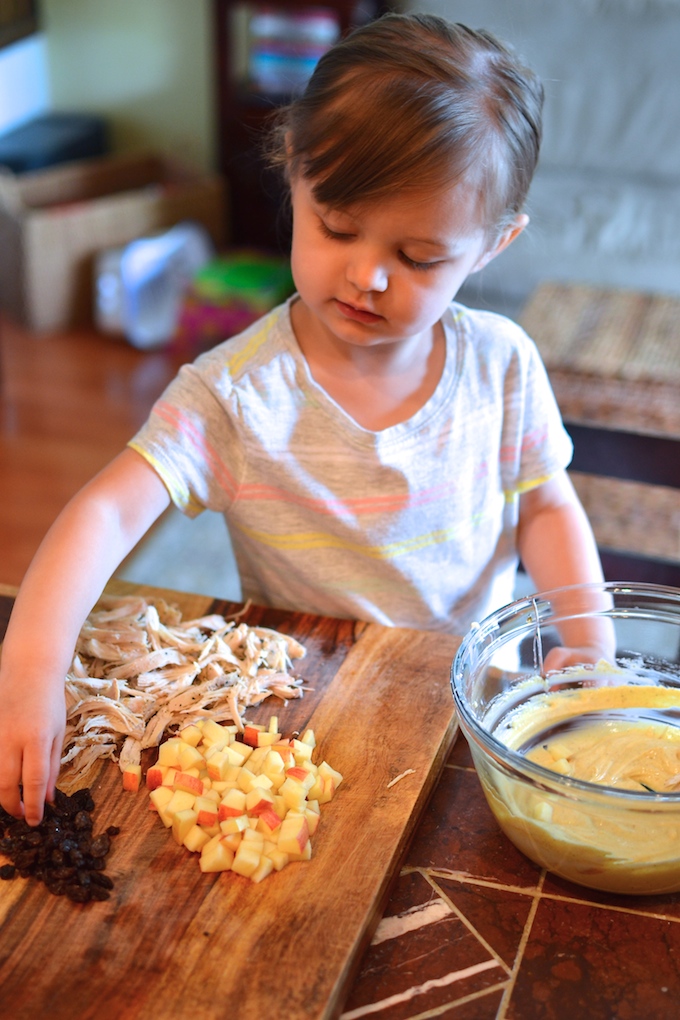 Curry Chicken Salad
Author:
Sally at Sweet Peas and ABCs
Ingredients
½ cup plain greek yogurt
2 tablespoons honey
1 teaspoon curry powder
¼ teaspoon salt
⅛ teaspoon black pepper
2 cups cooked chicken, shredded or diced
½ of an apple (any variety you like)
3 tablespoons raisins
1 tablespoon chopped flat-leaf parsley or cilantro (optional)
baby spinach leaves
sliced bread, wraps, pita bread, whole grain crackers, etc. for serving
Instructions
In a large bowl, combine the greek yogurt, honey, curry powder, salt and pepper. Whisk to combine.
Dice the apple into small cubes. Add the cooked chicken, diced apple, raisins, and parsley or cilantro (if using) to the bowl with the dressing. Stir to combine, making sure everything is thoroughly coated with the dressing.
To make a sandwich/wrap, layer baby spinach leaves and the chicken salad on your choice of bread, wrap, etc. You could also eat this on top of a bed of spinach leaves. Or mix the spinach right into the chicken salad and eat it as a dip using whole grain crackers.
On the Side
A key ingredient for our Curry Chicken Salad sandwiches is the dark-green, nutrient-dense, superfood that is SPINACH!  With this recipe, we're learning all about the /s/ sound using spinach leaves!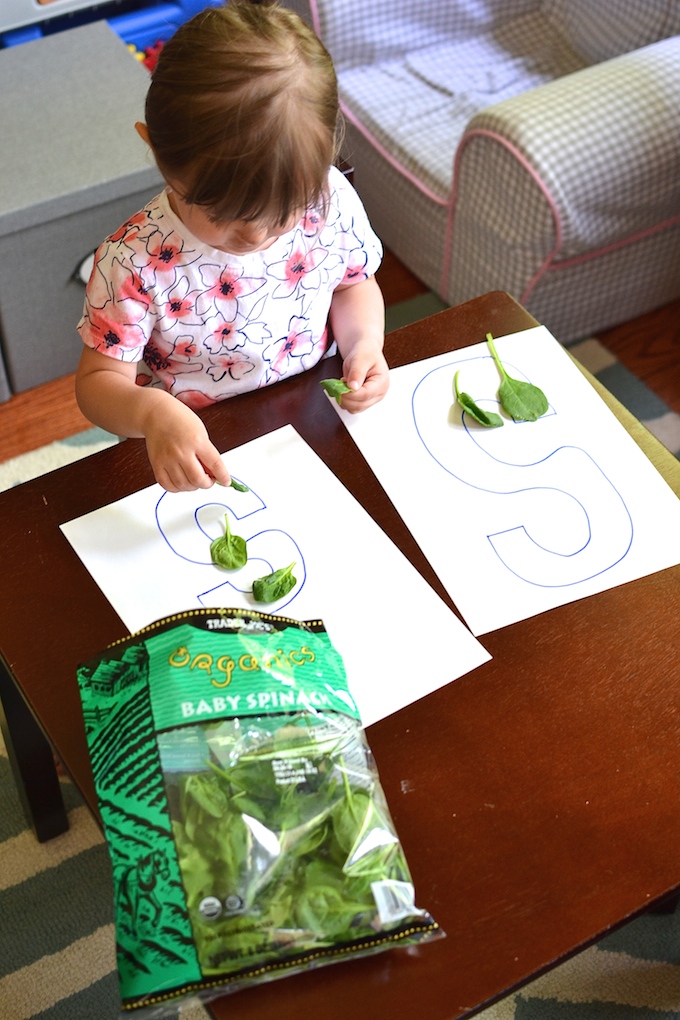 In the same way we explored the letter A, the letter C and the letter R, we're focusing on the letter "S" and it's sound. Repeat the word: spinach, spinach, spinach (emphasizing that /s/ sound at the beginning)… What sound do you hear at the beginning of each word?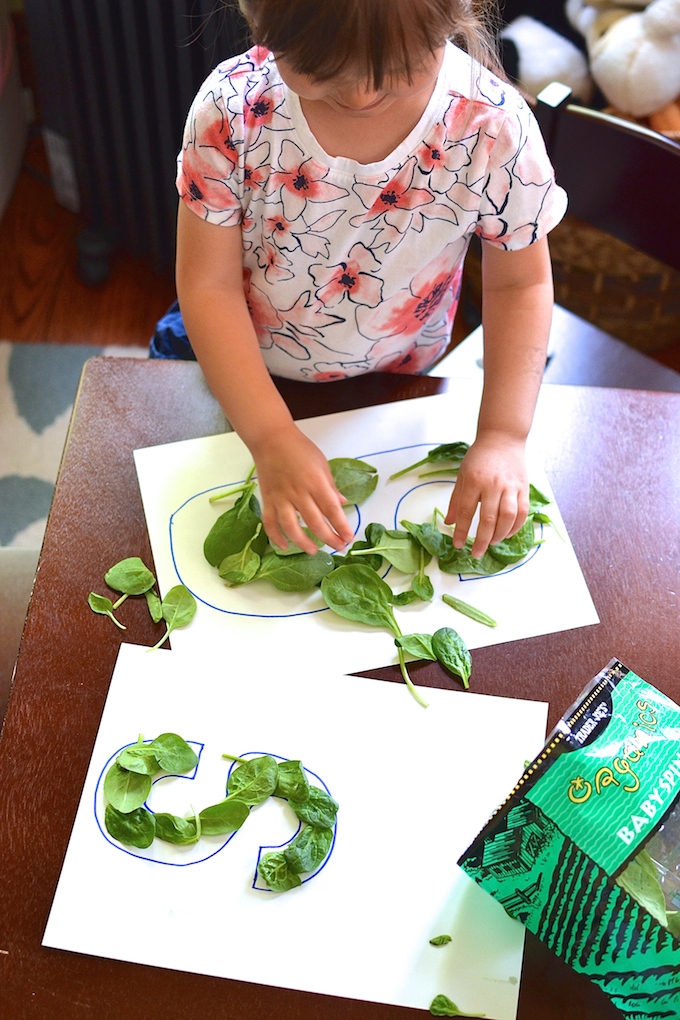 As you begin your recipe, review the alphabet with your child. What sound does the letter "s" say?  "S" says /s/ (like in the word "sad" or "sit"). Here are some activities you can do to explore the letter "s" and it's sound:
Brainstorm other food words that begin with the letter "s" (/s/): soup, strawberry, split peas, snack, salad, sausage, spaghetti, etc.
Brainstorm other non-food words that begin with the letter "s" (/s/): sorry, spoon, school, sand, seahorse, star, etc.  Don't be afraid to write down your brainstorm, even if your child is young. It's important that they can see their ideas in print. You never know what information they're soaking up!
Print out or draw a large capital S and/or lowercase s on a piece of paper. Use some spinach leaves from your curry chicken salad recipe to build the letter "s".  Or try other items that start with the letter "s" to build your letter.  Some ideas include: seeds, socks, shoelaces, sand or salt. If your child is ready, they could even cut out their letter "s" using scissors!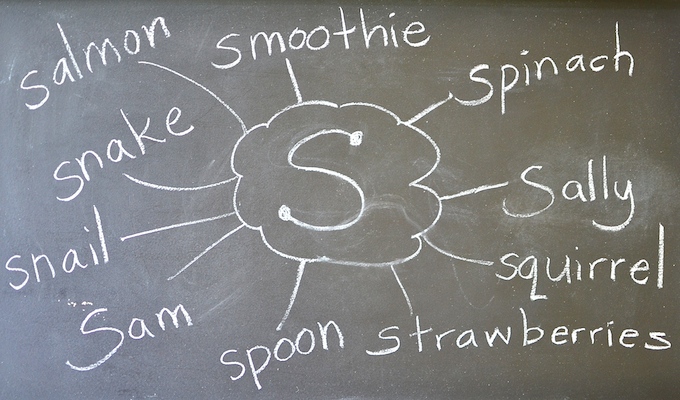 With an activity like this, you're giving your child a real-world connection to the letter "s" and the sound it makes. If the letter "s" comes up in a book or in a school activity, are they more likely to remember when you told them that the letter "s" says /s/ OR when they actually built a letter "s" out of s…s…spinach?!
And who knows, some spontaneous spinach snacking might just happen! (Em doesn't like spinach on it's own, but does like it dipped in hummus!)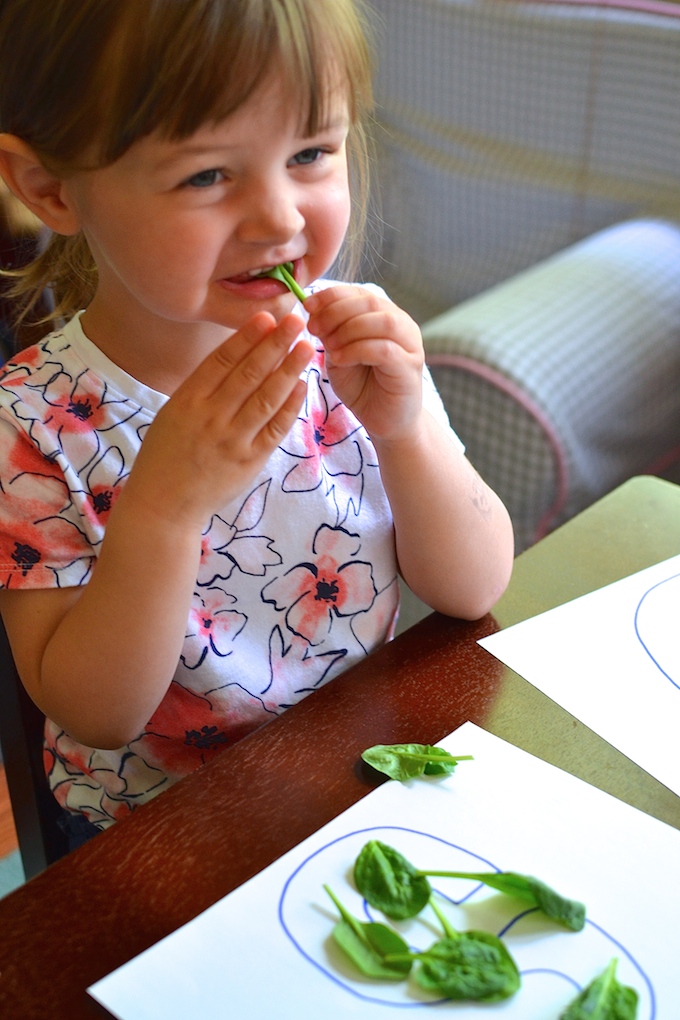 SaveSave
Disclaimer: As with all of our recipes, my suggestions for how kids can help with a particular recipe are based on what has worked in our kitchen.  Your child may be able to help more or less based on their age and/or ability. As always, make sure you are properly supervising kids in the kitchen.